1:37 PM EDT, Wed March 12, 2014
Last updated Mar 8, 2014
A.J. Burnett Injury Update
Up to the minute news and rumors on A.J. Burnett's injury
MLB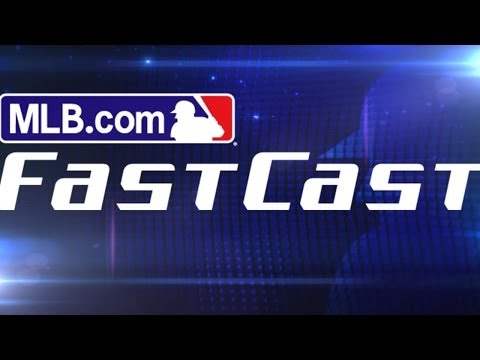 The Orioles agree to terms with Ubaldo Jimenez, Ryan Dempster announces he will not pitch in 2014 and A.J. Burnett arrives at Phillies camp
The Phillies Files | Morning Call
The Phillies were on quite a roller coaster yesterday and pitchers and catchers didn't even start workouts until today. First, news broke that Cole Hamels will miss the beginning of the season with tendinitis in his shoulder. A.J. Burnett (Photo...
Pittsburgh Post-Gazette
What a day in baseball Wednesday. Shortly before noon, news broke that A.J. Burnett is leaving the Pirates and the calm of Pittsburgh for the Phillies and the storm that is Philadelphia. He is doing this despite being overmatched and overwhelmed by the bright lights and scrutiny of New York earlier in his career. Then at 2 p.m., Derek Jeter -- one of the greatest New York Yankees of all -- announced he is retiring at the end of the 2014 season. Never has a player, a franchise and a city been better-matched.
MLB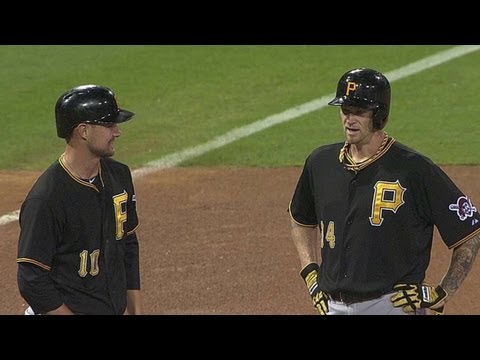 8/20/13: The Padres attempt the hidden-ball trick, but A.J. Burnett quickly steps back on the bag
MLB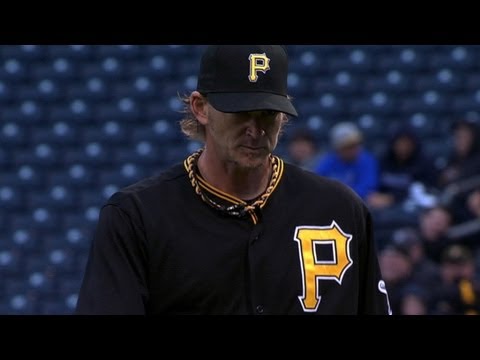 4/12/13: A.J. Burnett pitches six strong innings against the Reds, allowing three runs on six hits while striking out eight batters