7:18 AM EDT, Mon October 20, 2014
Last updated Sep 24, 2014
Angel Pagan Injury Update
Up to the minute news and rumors on Angel Pagan's injury
Giants Extra | San Jose Mercury News
The news was inevitable. It was still crushing for a Giants team hoping for another deep postseason run. Center fielder Angel Pagan will have surgery on a bulging disk in his back, ending his season. Pagan will have the procedure… Continue Reading → 
Sacramento Bee
The San Francisco Giants won't have their center fielder and leadoff hitter available for the playoffs if they get there, as the club announced Tuesday that Angel Pagan will undergo surgery later in the week to repair a bulging disc in his back.
San Francisco Chronicle
If the Giants want to win their third World Series in five seasons, they will have to do it without their leadoff hitter and center fielder. Manager Bruce Bochy just said that Angel Pagan will undergo back surgery in Los Angeles on Thursday. Recovery will last about three months, with the hope that he will be ready for spring training. Return here shortly for more details.
Orange County Register
Where: Dodger Stadium TV: SportsNet LA/KDOC/ESPN, 7 p.m. Did you know: The Giants announced Tuesday that outfielder Angel Pagan will undergo season-ending back surgery. San Francisco was 56-35 in games Pagan played this year, 29-36 in games he...
San Francisco Chronicle
As much as the Giants hoped to be at full strength for the final postseason push, they now must recognize that it will not happen. Manager Bruce Bochy on Saturday declared that Angel Pagan and Michael Morse both are "questionable" for the Dodgers series. "What can you do?" Bochy said after revealing that team orthopedist Dr. Ken Akizuki is flying to San Diego to examine Pagan's never-healing back. "You'd like to be healthy and at full strength down the stretch. We've had to deal with a few injuries this year: (Matt) Cain, (Brandon) Belt. You've got to focus forward. That's...
SportsNet New York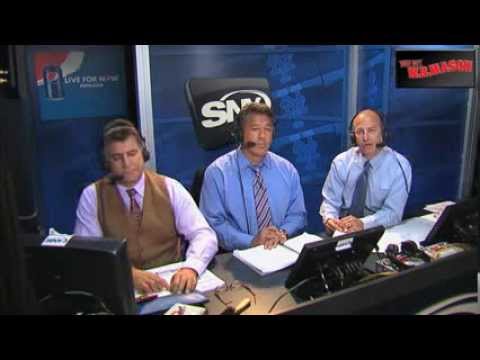 Daniel Murphy had two hits and drove in a run but it wasn't enough as a former Met, Angel Pagan, led the Giants to a 8-5 win over the Mets.
MLB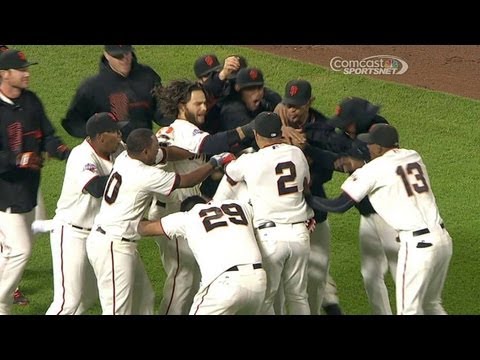 9/9/13: Brandon Belt lines a single to left field that scores Angel Pagan to give the Giants a 3-2 walk-off win in the 10th
MLB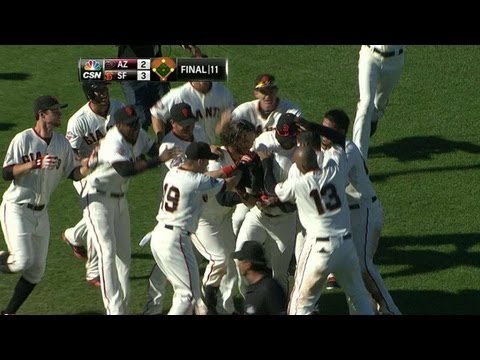 9/8/13: Angel Pagan lines a single to left that scores Ehire Adrianza from second to give the Giants a 3-2 walk-off win in the 11th inning