9:52 PM EDT, Mon September 01, 2014
Last updated 1 min ago
Angel Pagan Injury Update
Up to the minute news and rumors on Angel Pagan's injury
San Francisco Chronicle
By Henry Schulman Kansas City – "Frustrating" and "disappointing." Those were the words Bruce Bochy pulled out of the managerial adjective book to describe the recurring concussion symptoms that landed Brandon Belt back on the seven-day disabled list Friday and again prevents the Giants from fielding a team with both Belt and Angel Pagan. "Everyone […]
San Francisco Chronicle
If Brandon Belt did not have any bad luck this year, he would have no luck at all. The first baseman returned to the seven-day disabled list Friday with recurring concussions symptoms. Which means the Giants played exactly no games with Belt and Angel Pagan both back. "It's frustrating and disappointing," manager Bruce Bochy said. "(Belt) came back, we were getting Angel back and to everyone was excited to see the lineup we envisioned, but (Belt) had another setback. But you know what? There's nothing you can do but move forward." To recap, Belt missed nearly two months after his...
San Francisco Chronicle
By Henry Schulman Milwaukee – Angel Pagan had two hits, but his long-anticipated return from a back injury did not lift the Giants enough to take the rubber game of their series Thursday. The Brewers won 3-1, preventing the Giants from capturing their first series against a winning team they took three of four from the Cardinals in late May and early June, before Pagan went down with his injury. Jake Peavy fell to 0-3 as a Giant and lost his 12th consecutive decision despite holding Milwaukee to three runs in 5 2/3 innings, the final two signaling his exit in the sixth inning. He was...
SportsNet New York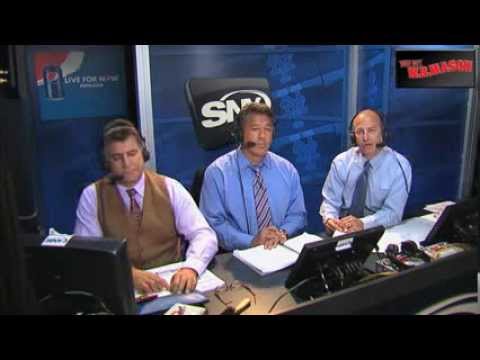 Daniel Murphy had two hits and drove in a run but it wasn't enough as a former Met, Angel Pagan, led the Giants to a 8-5 win over the Mets.
MLB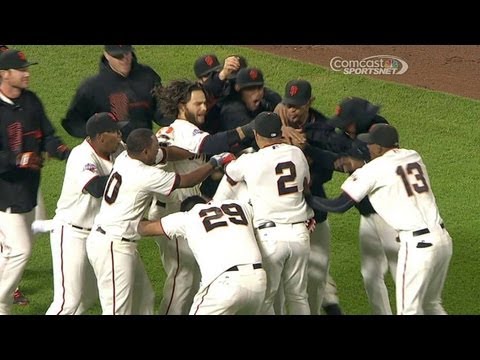 9/9/13: Brandon Belt lines a single to left field that scores Angel Pagan to give the Giants a 3-2 walk-off win in the 10th
MLB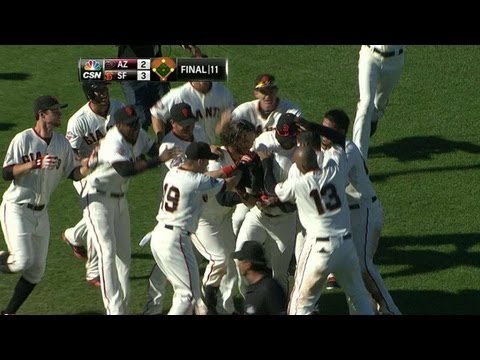 9/8/13: Angel Pagan lines a single to left that scores Ehire Adrianza from second to give the Giants a 3-2 walk-off win in the 11th inning