8:25 AM EST, Thu February 21, 2019
Last updated Feb 20, 2019
Calgary Flames Injuries
Up to the minute news on Calgary Flames Injuries
Sportsnet.ca
Calgary Flames forward James Neal isn't expected to be out long-term with the upper-body injury that kept him out of the lineup on the weekend. The post NHL appeared first on Sportsnet.ca.
Last Word on Hockey
It's Sunday and it's time for another bunch of NHL trade rumours. We take a look at possible deals as we move toward the Feb. 25 NHL trade deadline. Today we examine rumours surrounding the Calgary Flames, Detroit Red Wings and Montreal Canadiens. We take all NHL trade rumours from the original source and are subject to change. NHL Trade Rumours Calgary Flames: Part One Rumour: Sportsnet's Nick Kypreos said during the Headlines segment on Hockey Night in Canada that James Neal's injury could force the Flames to change their plans at the deadline. Neal is still dealing with injuries,...
Puck Prose
According to the latest NHL trade rumors, the Calgary Flames are looking to add a forward due to James Neal's injury. They've been tied to Mark Stone and Mats Zuccarello. The Calgary Flames currently sit on top of the Pacific Division. However, they've got to hold off the San Jose Sharks, who are close behind […] NHL Trade Rumors: Calgary Flames linked to Mark Stone, Mats Zuccarello - Puck Prose - Puck Prose - NHL
Sportsnet.ca
Calgary Flames forward James Neal left Thursday's game against the Florida Panthers with an upper-body injury and will not return. The post NHL appeared first on Sportsnet.ca.
Calgary Sun
TAMPA, Fla. — It's almost alarming how familiar James Neal has become with the intricacies of dental surgery. The Calgary Flames forward was back with his teammates at Tuesday's morning skate at the Amalie Arena in Tampa after missing Monday's practice while he got dental work done because of the eight teeth he lost in […]
Last Word on Hockey
Vancouver Canucks have placed centre Brandon Sutter on the injured reserve list. In his most recent outing against the Calgary Flames on Saturday, Sutter apparently suffered a lower-body injury. Before the game against the San Jose Sharks on Monday night, Sutter was placed on the injured reserve to make roster space. According to NHL media website, Brandon Sutter has been placed on IR by the #Canucks — Irfaan Gaffar (@sportsnetirf) 12. februára 2019 Brandon Sutter Out with Another Injury for Vancouver Sutter has been dealing with a lot of injuries over the current campaign. The...
Fear The Fin
A Sharks/Canucks game in February where both teams are pushing for the playoffs? It's about time! The Sharks arrived in Vancouver not only looking to sweep their trip through Western Canada and build on a five-game winning streak, but also eyeing the opportunity to take the Pacific Division lead from the Calgary Flames. Once again San Jose will be without the services of Erik Karlsson, who will be missing his eighth straight game due to a lower body injury. The Canucks enter tonight's game just outside the playoff picture, sitting two points behind the St. Louis Blues and Minnesota...
Matchsticks and Gasoline
The Flames have added Valiev to their NHL roster. The Flames have made a roster move before their Sunday tilt with the Carolina Hurricanes. Rinat Valiev has been called up from Stockton to presumably help fill a roster spot due to Travis Hamonic's injury. Hamonic landed awkwardly after getting tangled up in the first period of the Flames 4-3 loss to the Washington Capitals Friday night. Hamonic played one more shift after and didn't return for the rest of the game. The Flames have given no indication as to how bad Hamonic's injury is or isn't. Valiev has played in 36 games this season...
Matchsticks and Gasoline
The Flames were still on vacation last night in a 4-3 loss to the Capitals. Calgary Flames 3 - Washington Capitals 4 NHL Standings Recap Tidbits -Still Going Strong: Elias Lindholm scored a third period goal giving the Flames 81 third period markers on the season, which is still tops at this point in the season. -Please Don't Hurt Him, Hammer: Another day, another injury for poor Travis Hamonic. In the first period Hamonic landed awkwardly on his leg and only had one more shift after that. If you're keeping score at least it wasn't his face. This will be the first time all season...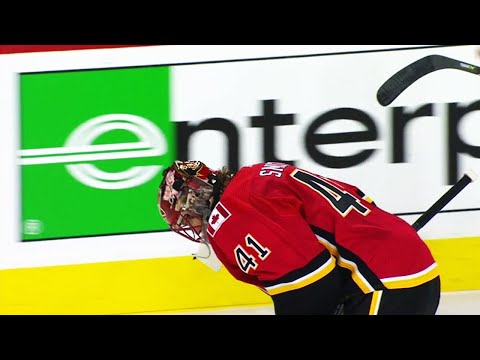 HC at Noon discussion on Calgary Flames goalie Mike Smith leaving Monday's game with injury, but the fact that he came back to sit on the bench was very encouraging.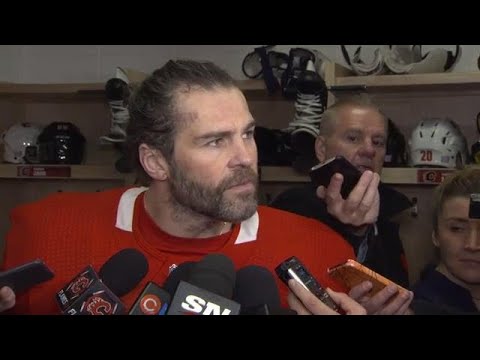 Calgary Flames forward Jagr returns from lower-body injury that has kept him sidelined since October 21.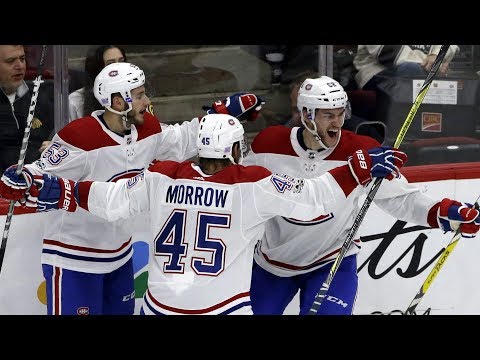 Watch the best plays from November 5th, 2017, as Gustav Nyquist both scores and leaves for injury, Nick Leddy gets lucky, and Mike Smith makes a fantastic save for the Flames en route to a win. 00:01 Nick Jensen launches a point shot tipped in to open sc