5:35 AM EDT, Fri October 24, 2014
Last updated Oct 3, 2014
Calvin Johnson Injury Update
Up to the minute news and rumors on Calvin Johnson's injury
Lions Lowdown | Oakland Press
ALLEN PARK — Calvin Johnson returned to Lions practice Friday on a limited basis after sitting out the rest of the week with an injured ankle. He is listed as questionable for Sunday according to Friday's injury report. That's the same designation as last week. Johnson, who was limited on Sunday against the Jets, said on Wednesday that his ankle felt better than it had a week ago. Caldwell said on Friday that he expects WR Golden Tate to play on Sunday even though he was limited in practice on Thursday with a hamstring. Tate was working on Friday and listed as probable on the...
Inside the Bills | Buffalobills.com
          The Detroit Lions already have a hobbling WR in Calvin Johnson. Now their number two wideout Golden Tate has an injury as well. According to the Lions' official website, Tate was limited in practice Thursday with a hamstring injury. Tate admirably picked up the slack for Johnson, who was slowed […]
Inside the Bills | Buffalobills.com
Dealing with an ankle injury the past couple of weeks, Detroit WR Calvin Johnson played this past Sunday against the Jets, but on a part-time basis and did not have much of an impact in the Lions' win over the Jets. Johnson only played 57 percent of the snaps as he saw action on 37 […]
Newark Star-Ledger
Even with Calvin Johnson off the field, the Jets were victimized by a deep ball Sunday.
Lions Lowdown | Oakland Press
Lions wide receiver Calvin Johnson, who missed practice on Wednesday and Thursday, will start and play today against the Jets at MetLife Stadium, per multiple reports. Johnson was able to practice on a limited basis on Friday. He injured his right ankle in the win over the Packers last Sunday. Wide receiver Ryan Broyles is active for the first time this season with the absence of tight end Joe Fauria who injured his ankle in a freak fall on Wednesday night. Also, as expected, safety James Ihedigbo will play his first game this season. The veteran safety, who is coming off a neck injury,...
Lions Lowdown | Oakland Press
ALLEN PARK — Jim Caldwell would not offer any news this morning on the ankle injury to tight end Joe Fauria. The Lions coach announced on Thursday that Fauria had injured his ankle in an "innocent" incident at his home on Wednesday night.  If Fauria is unable to play on Sunday at the N.Y. Jets, the Lions could make a roster move to bring tight end Jordan Thompson up from the practice squad.  — No status update from Caldwell on Calvin Johnson who didn't practice on Wednesday and Thursday with an ankle injury. If Johnson can't play on Sunday, look for Ryan Broyles to be play...
Lions Lowdown | Oakland Press
ALLEN PARK — Calvin Johnson returned to practice today (Friday) after missing the previous two days. The Lions wide receiver injured his right ankle in Sunday's win over the Packers. He participated in the portion of practice open to the media. It's unknown if he was able to have a full practice. Tight end Joe Fauria, who has a non-football related ankle injury, did not practice.  Also missing were safety Don Carey (hamstring), cornerback Cassius Vaughn (ankle) and linebacker Travis Lewis (quadricep). (Follow @PaulaPasche on Twitter. Order her book,  "100 Things Lions...
Newark Star-Ledger
Officially, the Jets listed Decker as questionable and Milliner as doubtful.
Lions Lowdown | Oakland Press
ALLEN PARK — Lions' Calvin Johnson, who has an ankle injury sustained in Sunday's win, missed his second straight practice today (Thursday). "Anytime that someone doesn't practice, in particular when it's not just a day of rest which we would indicate on the medical report, there's always some concern,'' coach Caldwell said before practice. — Lions tight end Joe Fauria twisted his ankle away from the practice facility on Wednesday night and will not practice Thursday.  Coach Jim Caldwell made the announcement in his pre-practice press conference. I said it was an...
Lions Lowdown | Oakland Press
ALLEN PARK — Calvin Johnson sat out of Detroit Lions practice today (Wednesday). It was the first practice he's missed this season. Johnson finished Sunday's game, but appeared to get dinged up. At one point late in the game he was on the trainer's table and it looked like they were working on his ankle. Johnson wouldn't address the injury in his presser earlier today. Coach Jim Caldwell rarely talks about injuries. Right tackle LaAdrian Waddle (calf) returned to practice but appeared to be limited. Along with Johnson, Travis Lewis, Don Carey and Cassius Vaughn did not...
Lions Lowdown | Oakland Press
ALLEN PARK — Calvin Johnson will receive the Detroit Lions' 2014 Ed Block Courage Award at a dinner on Oct. 28 at Ford Field. The annual Courage House dinner will feature coach Jim Caldwell as the keynote speaker. The dinner benefits HAVEN, an Oakland Counter center for the prevention and treatment of domestic violence, sexual assault and child abuse. More than $2 million has been raised for HAVEN at previous dinners. "Calvin was a logical choice for this award having played through and overcome multiple injuries in the last year," Lions head athletic trainer Kevin Bastin said....
ESPN
Watch EA SPORTS Madden 15 simulate the outcome of Week 1's Monday Night Football match-up between Eli Manning's New York Giants and Calvin Johnson's Detroit Lions. Your fantasy team will thank you.
FOX Sports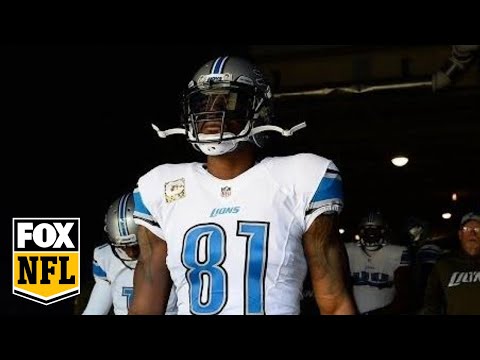 The FOX NFL Kickoff crew compares Calvin Johnson to to former NFL WR Randy Moss.