1:47 AM EST, Sun March 09, 2014
Last updated 3 hours ago
Carmelo Anthony Trade Rumors
Up to the minute news and rumors on Carmelo Anthony's trade
SNY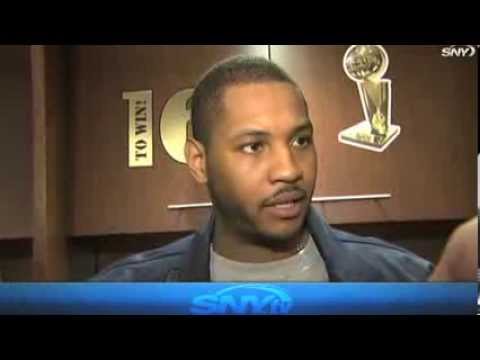 Mike Woodson, Carmelo Anthony, Tyson Chandler, and JR Smith talk to the media about the New York Knicks beating the Utah Jazz, and the news from earlier in the day that the team is courting Hall of Fame coach Phil Jackson.
CBSSports
Former NBA All-Star, Anthony Mason Calls in and Speaks with Marc Malusis and Maggie Gray about where Carmelo Anthony should go if he wants to win, and what the Knicks need to do if they want to turn things around.
CBSSports
Join Marc Malusis and Maggie Gray as they discuss the rumors that the Bulls' Joakim Noah made a pitch to Carmelo Anthony to try and get him to sign with the Chicago Bulls next year.
Dallas Mavericks Blog | ESPN Dallas
The trade deadline has passed and the Mavericks are one of the NBA's hottest teams, winning nine of the last 11 games. So, of course, we should fast forward and discuss summer possibilities. This edition of the Mavs have actually given us plenty to talk about, but one particular question about this year's free agency scene fascinates me, so we'll start with that. Do you think Carmelo Anthony would ever consider Dallas instead of LA or staying in NY?
New York Post
ORLANDO, Fla. — Carmelo Anthony isn't sure whether the Knicks standing pat at the trade deadline while their competitors improved was the right or wrong thing to do. But he...
Newsday
The Knicks probably wish the trade deadline wasn't for another couple of days.
Knicks Blog | ESPN New York
Here's one positive for the Knicks in the wake of their inactivity at the trade deadline: They're still on schedule to have plenty of cap space in 2015. Remember, Steve Mills and the Knicks hope to be big players in free agency in the summer of 2015. The plan is to surround Carmelo Anthony with at least one additional max-level free agent. Rajon Rondo, LaMarcus Aldridge and Kevin Love are expected to headline the 2015 free-agent class. Of course, the first step in that plan is to re-sign Anthony this summer.
Knicks Blog | ESPN New York
With uncertainty surrounding his team and trade deadline approaching, Carmelo Anthony put the Knicks on his back late in the fourth quarter and lifted New York to a 98-91 win over the Pelicans. Anthony scored 13 straight points in the fourth quarter, including a 20-foot jumper that gave the Knicks a one-point lead with 3:08 to play. Anthony finished with 42 points on 18-for-29 shooting. Wednesday was his third 40-point game of the season. The rest of the Knicks' starters combined for 17 points.
Chicago Sun-Times
Let's say Derrick Rose walks with a cane the rest of his life. Easy now! We're just talking hypothetical here. Let's say the Bulls are a team in unknown transitional territory, which they are. The NBA trade deadline is approaching this Thursday, and the Bulls, like many teams, would like to improve their lot however they can. There sits free-agent-to-be Carmelo Anthony of the New York Knicks, a superstar making a ton of money but a guy who might be a little...
Newsday
Carmelo Anthony continues to say he doesn't plan on having any input on what the Knicks do by Thursday's NBA trade deadline, but he thinks management will consult him.
New York Post
MEMPHIS — Carmelo Anthony expects to be consulted if the Knicks have a big deal they are considering at Thursday's trade deadline that could affect their long-term future. The Knicks...
New York Daily News
Every move the Knicks make is done with the idea of keeping Carmelo Anthony happy and, above all else, keeping him in New York.    
Knicks Blog | ESPN New York
Carmelo Anthony has some bad news for those who wanted to see the Knicks trade him by the Feb. 20 deadline and blow up the roster. "I don't think I'll be traded," he said. "When is the trade deadline? I don't think there's no way possible I'll be traded. I don't think they're even considering it. "If they feel they want to get rid of me, we'd already have had that conversation. I don't think that. I know for a fact I'm not being traded, and I know for a fact I'm not going in there saying I want to be traded.
New York Daily News
Carmelo Anthony will be back among the NBA's elite this weekend, with an opportunity to trade stories and elicit firsthand advice about the Knicks' future and his pending free agency.