2:10 PM EDT, Tue June 19, 2018
Last updated Jun 14, 2018
Carolina Panthers Injuries
Up to the minute news on Carolina Panthers Injuries
Cat Scratch Reader
Here's today's collection of Panthers links for you to discuss. Greetings, internet users. Welcome to The Scratching Post. Here's some reading material from outside CSR for you to consume. Ryan Kalil ready to "empty the tank" for final season | Max Henson, Panthers.comThe veteran center and team captain is determined to go out on a high note after a couple injury-plagued seasons. Luke Kuechly, defense progressing well | Bryan Strickland, Panthers.comStill planning to be "full-go" come training camp, star linebacker discusses his rehab from shoulder surgery and what he sees in the...
Cat Scratch Reader
The Panthers need a better return on their high-priced investment. According to the Panthers team website, Matt Kalil is healthy for the first time in a long time after recovering from hip surgery in September 2016. Most importantly, this is great news for Matt Kalil the person. Living in pain while rehabbing from surgery is a difficult, sometimes depressing grind, so hopefully this health issue is now behind him as a human being. That being said...he does get paid millions of dollars to play football, so here comes the next logical question: Matt Kalil may be healthy, but will he be good?...
Cat Scratch Reader
As we count down the days until our beloved Carolina Panthers officially kickoff the 2018 season, we take a look at the players on the roster with the corresponding jersey numbers. With only 88 days to go before the 2018 iteration of the Carolina Panthers takes the field for some real, meaningful football, it is Greg Olsen's turn to be featured in our countdown. Greg Olsen, Tight end Bio Height: 6'5" Weight: 255 lbs Age: 33 College: Miami (FL) NFL experience: 12 years Hometown: Wayne, NJ Greg Olsen struggled through injuries last season for the first time in his career as he only...
Fox Sports
CHARLOTTE, N.C. (AP) Panthers four-time All-Pro middle linebacker Luke Kuechly says he should be ready for full contact when training camp begins following offseason surgery for a torn labrum in his shoulder.
Revenge of the Birds
The Cardinals continue to churn their roster. The Arizona Cardinals continue to turnover their roster on the backend, as they have released undrafted free agent safety Jonathan Owens who was waived with a knee injury. In his place they have signed former Carolina Panther and Budda Baker teammate from their days at Washington, Travell Dixon. From the team: Dixon (6-1, 210) played in one game for Carolina in 2016 after spending the first 16 weeks of the season on the Panthers practice squad. He entered the NFL with Oakland as a rookie free agent in 2015 out of the University of Washington....
Cat Scratch Reader
Here's today's collection of Panthers links for you to discuss. Greetings, internet users. Welcome to The Scratching Post. Here's some reading material from outside CSR for you to consume. Devin Funchess shouldering more | Bryan Strickland, Panthers.comAfter battling through a shoulder injury late last season, wide receiver taking on more of a leadership role in a room that has added more experience to the equation. Carolina Panthers: Can CB Ross Cockrell help hometown team? | Scott Fowler, Charlotte ObserverRoss Cockrell starred as a high school football player at Charlotte Latin and...
Cat Scratch Reader
According to reports, Panthers wide receiver Curtis Samuel is looking good during OTAs. According to Max Henson of Panthers.com, Curtis Samuel has looked very good during his first time taking the field since his injury last season. WR Curtis Samuel (ankle) got a little bit of work during team period today. Rehab has gone very well.Rivera: "That was good to see. We increased some of his team reps early on and then shut him down. Hopefully tomorrow we can increase a little more or do the same thing."— Max Henson (@PanthersMax) May 29, 2018 Curtis Samuel pic.twitter.com/y5GRLGffRh—...
Cat Scratch Reader
Ron Rivera was impressed with what he saw from Byrd today. According to Panthers head coach Ron Rivera, Damiere Byrd had a really good day of practice during today's OTA session (around 1:00 mark). Rivera was asked about how the receivers were handling the transition to Norv Turner's offense. Rivera responded by mentioning the little nuances and stems that each route requires for Turner's offense. Byrd suffered a knee injury on Christmas Eve against Tampa Bay. The timing of the injury was unfortunate because he was slowly putting the whole package together. He made a remarkable...
Cat Scratch Reader
Here's today's collection of Panthers links for you to discuss. Greetings, internet users. Welcome to The Scratching Post. Here's some reading material from outside CSR for you to consume. Curtis Samuel: Will Carolina Panthers WR make 2018 roster? | Jourdan Rodrigue, Charlotte ObserverCarolina Panthers receiver Curtis Samuel looked great at practice Tuesday but still has a ways to go in his injury recovery. Will former Ohio State Buckeyes star make the NFL team's 2018 roster with five of six receiver spots all but set? Listen: Panthers Podcast | Panthers.com (audio)It was a big week...
News & Observer
Second-year Carolina Panthers receiver Curtis Samuel is still recovering from a serious ankle injury suffered last fall, but during Tuesday's first organized team activities, he looked positively dynamic. A highly …
NFL Spin Zone
Fozzy Whittaker suffered a serious injury that creates a big opening in the running and special teams units for the Carolina Panthers. Tough news hit the Carolina Panthers when Fozzy Whittaker tore his ACL during non-contact drills. With that injury coming at a time in which the team is making an effort to secure depth […] Carolina Panthers: Fozzy Whittaker injury creates opening on roster - NFL Spin Zone - NFL Spin Zone - NFL news, rumors, analysis, opinions, stats, mock drafts, scores, and GIFs.
Riggo's Rag
After a foot injury nullified his lucrative deal with the Carolina Panthers, former Washington Redskins' cornerback Bashaud Breeland appears to be close to finding a new home. It's been two months since Bashaud Breeland's whirlwind free agency period. The Washington Redskins allowed the 2014 fourth-round pick to test the market after the two sides failed […] Former Washington Redskins CB Bashaud Breeland likely to join Colts - Riggos Rag - Riggos Rag - A Washington Redskins Fan Site - News, Blogs, Opinion and more.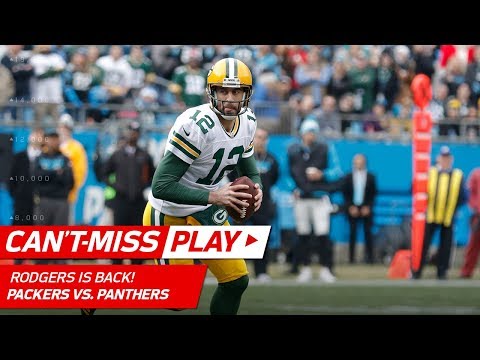 The Green Bay Packers take on the Carolina Panthers in Week 15 of the 2017 NFL Season. Watch full games with NFL Game Pass: https://www.nfl.com/gamepass?campaign=sp-nf-gd-ot-yt-3000342 Sign up for Fantasy Football! http://www.nfl.com/fantasyfootball