5:56 PM EDT, Mon March 25, 2019
Last updated Mar 23, 2019
Carolina Panthers Injuries
Up to the minute news on Carolina Panthers Injuries
Cat Scratch Reader
Kalil was signed by Houston shortly after being released from Carolina over a week ago. According to multiple reports, the Houston Texans signed former Carolina Panthers left tackle Matt Kalil to a one-year deal yesterday. Texans sign former Carolina left tackle Matt Kalil.— John McClain (@McClain_on_NFL) March 22, 2019 Kalil signed a five-year, $55 million deal with the Panthers in 2017. He was expected to protect Cam Newton's blindside for all five of those years, but his production had drastically decreased. He missed all of the 2018 season due to a right knee injury. Check out...
Field Gulls
Former Seattle Seahawks center Max Unger is reportedly retiring from the NFL after 10 seasons. Source: Saints C Max Unger has retired. Wow.— Field Yates (@FieldYates) March 16, 2019 Unger, 32, sustained a concussion in the Saints victory over Carolina Panthers on Monday Night Football in Week 15, but was cleared to return to the field for the next game against the Pittsburgh Steelers in Week 16. The six-year member of the Seahawks was traded to the New Orleans Saints after the 2014 NFL season along with a first round pick for tight end Jimmy Graham and a fourth round pick. Unger...
Cat Scratch Reader
The Jets have reunited with their former kicker after losing a different one in free agency. The New York Jets have signed former Carolina Panthers kicker Chandler Catanzaro to a contract. The terms of the deal have not been disclosed. Cat-Man is back in the Green & White. https://t.co/m6UAGyS4Sy pic.twitter.com/G2Dzy5JZSN— New York Jets (@nyjets) March 15, 2019 The Panthers added Catanzaro to the roster in December as a 'break glass in case of emergency' option after Graham Gano suffered a knee injury during practice. Catanzaro, or 'Cat-Man' as he is apparently called...
ClutchPoints
The Carolina Panthers have agreed to re-sign offensive lineman Daryl Williams to a one-year deal, according to Adam Schefter of ESPN. Williams is coming off of a 2018 campaign in which he played just one game as a result of a knee injury he suffered in training camp, when Williams tore his MCL and dislocated […] The post Carolina Panthers re-signs OT Daryl Williams to one-year contract appeared first on ClutchPoints.
Cat Scratch Reader
The veteran receiver will spend the 2019 season in Carolina. The Carolina Panthers have exercised the $5 million option to keep veteran wide receiver Torrey Smith for the 2019 season, according to Pro Football Talk. Per source Panthers exercise option on WR Torrey Smith. He returns for 2019.— ProFootballTalk (@ProFootballTalk) March 8, 2019 Smith was acquired by the Panthers last season when they traded cornerback Daryl Worley to the Eagles. Smith missed five games with a knee injury last season and saw limited action in the 11 games he appeared in. He caught 17 passes for 190 yards...
ClutchPoints
The Carolina Panthers have signed linebacker Jared Norris to a two-year contract, according to Ian Rapoport of NFL Network. Norris played in just three games this past season after suffering a toe injury that landed him on the injured reserve list. He logged just one tackle when he was on the field. The 25-year-old, who […] The post Report: Panthers sign Jared Norris to two-year contract appeared first on ClutchPoints.
Cat Scratch Reader
Norris spent the 2018 season on injured reserve with a toe injury. The Carolina Panthers have signed linebacker Jared Norris to a two-year contract, according to a report from NFL insider Ian Rapoport. The #Panthers agreed to terms on a 2-year contract with LB and special teamer Jared Norris, source said. Norris, who finished the year on Injured Reserve, got $150K to sign.— Ian Rapoport (@RapSheet) March 3, 2019 According to the team's official bio of Norris, he spent the majority of the 2018 season on injured reserve after suffering a toe injury early in the year. In 2017, he...
Cat Scratch Reader
Here's today's collection of Panthers links for you to discuss. Greetings, internet users. Welcome to The Scratching Post. Here's some reading material from outside CSR for you to consume. Report: Panthers linebacker David Mayo had sports hernia surgery | Tim Weaver, PanthersWireAccording to a report by Joseph Person at the Athletic, Mayo is recovering from a recent sports hernia surgery. Like [Thomas] Davis, he is also going to become a free agent next month. On the bright side for Mayo, Person reports that he is expected to make a full recovery. Beyond Reid, Carolina Offseason...
Cat Scratch Reader
The NFL Scouting Combine begins today and runs until Monday, March 4. The NFL Combine (aka the Underwear Olympics) begins today at Lucas Oil Stadium in Indianapolis, Ind. and runs until Monday, March 4. Below you will find the schedule of events for each day at the Combine. Panthers head coach Ron Rivera is scheduled to speak to the media on Thursday, February 28 at 10:15 a.m. ET. General manager Marty Hurney is not scheduled to appear. Day 1: Tuesday, February 26 Group 1 (PK, ST, OL), Group 2 (OL), Group 3 (RB): Arrival, Registration, Hospital Pre-Exams & X-Rays, Overflow Testing,...
Cat Scratch Reader
Hood spent the 2018 season on injured reserve after suffering a knee injury during the Panthers' preseason finale. The Carolina Panthers have signed running back Elijah Hood to a one-year contract, the team confirmed on Twitter today. Welcome back @EliMHood! pic.twitter.com/fehCBZtZ4U— Carolina Panthers (@Panthers) February 25, 2019 Hood was an exclusive rights free agent, which means the Panthers were the only team who could negotiate with him if they offered him a contract. Exclusive-rights free agents (ERFAs) are players with two or fewer seasons of service time and whose...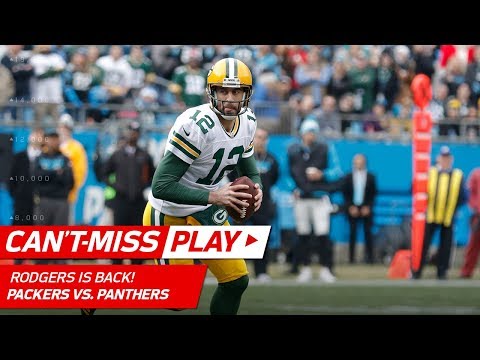 The Green Bay Packers take on the Carolina Panthers in Week 15 of the 2017 NFL Season. Watch full games with NFL Game Pass: https://www.nfl.com/gamepass?campaign=sp-nf-gd-ot-yt-3000342 Sign up for Fantasy Football! http://www.nfl.com/fantasyfootball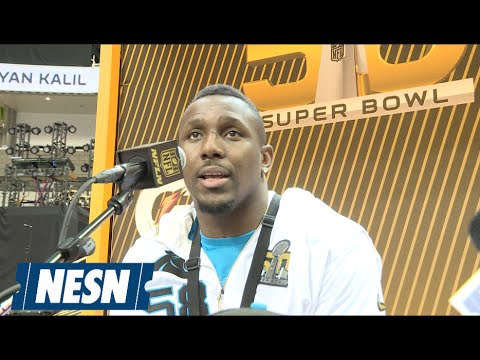 Carolina Panthers linebacker Thomas Davis spoke one-on-one with NESN.com's Michaela Vernava about his recovery from injury and how Cam Newton has shown his leadership qualities in the locker room.