5:39 PM EDT, Thu July 24, 2014
Last updated 1 min ago
David Ortiz Injury Update
Up to the minute news and rumors on David Ortiz's injury
Full Count | WEEI
Red Sox designated hitter David Ortiz left Thursday's 8-0 loss against the Blue Jays in the middle of his ninth-inning at-bat after experiencing what manager John Farrell described to reporters as lower back spasms while checking his swing. Ortiz, who hit four homers in the first three games of the series, appeared to suffer the injury […]
Extra Bases | Boston Globe
According to media reports after Thursday's game, Ortiz felt the twinge in his back during the at bat, but also felt a spasm in his seventh inning fly out on Wednesday.
Boston Red Sox Blog | ESPN Boston
TORONTO—There was a dazed aspect to Clay Buchholz's pitching Wednesday night, and that was even before he took a comebacker from Munenori Kawasaki off the side of his head. The Red Sox barely had time to savor the 3-0 lead David Ortiz gave them with his fourth home run in three nights before Buchholz gave it all back in the bottom of the first, foreshadowing what would become a 6-4 Sox defeat. "I'll take the blame for this one, for sure,'' Buchholz said.
FOX Sports
Comedian and MLB Off the Bat host Chris Distefano sends a special message to his friend David Ortiz. @TheBuzzer is a daily sports commentary, pop culture, and variety show for the social media generation. Stop by for new videos Monday through Friday feat
MLB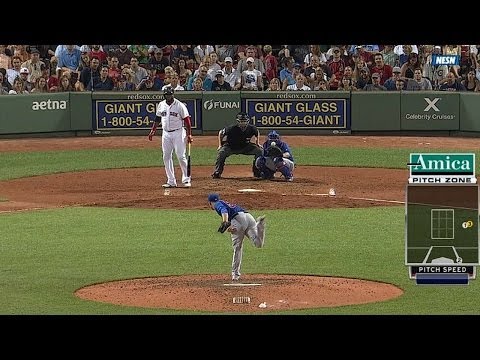 7/1/14: David Ortiz anticipa base por bolas comenzando su trote a primera base antes de que el lanzador tira la pelota desde la loma