5:02 AM EDT, Thu April 24, 2014
Last updated Apr 19, 2014
Derrick Rose Injury Update
Up to the minute news and rumors on Derrick Rose's injury
Wizards Insider | Washington Post
In a perfect world, the first-round playoff series between the Washington Wizards and Chicago Bulls would be a matchup pitting two of the NBA's most-skilled point guards against one another in Washington's John Wall and Chicago's Derrick Rose. But with Rose again sidelined by a season-ending knee injury, the focus of this series has shifted […]
Chicago Bulls Blog | ESPN Chicago
When Derrick Rose went down for a second straight season in November with a knee injury, luck certainly didn't appear to be on the Chicago Bulls' side. As the Bulls tried to regain their balance in the wake of another devastating loss of their franchise player, D.J. Augustin was sitting on the bench in Toronto, a former lottery pick in 2008 unable to crack the Raptors rotation. He appeared in just 10 games with the Raptors, averaging just 8.2 minutes a game before being released on Dec.
Chicago Sun-Times
BOSTON — The player making $17.6 million this season again was running with the second team Sunday, recovering from his season-ending knee surgery and helping to prepare the Bulls' starters as part of a virtual scout team. That's about all Derrick Rose can do these days. As for the player who was out of a job and looking for work back in December, well, all D.J. Augustin did as Rose's replacement was continue to save the Bulls' season. Augustin scored a...
Chicago Sun-Times
BOSTON – Derrick Rose was doing his part again on Sunday, getting some practice time in on the scout team as he recovers from season-ending knee surgery. His replacement on the roster, D.J. Augustin? Well, he was doing his part as well – continuing to save the season for the Bulls. Thanks to a career-high 33 points against the Celtics, Augustin helped hold off a pesky Boston team, scoring 15 fourth-quarter points to lead the Bulls to the 107-102 win at the TD...
Chicago Sun-Times
BOSTON – The Bulls might not have the most talented team in the Eastern Conference, but they definitely have the best scout team. That's basically what Derrick Rose's role is the remainder of the season, as he continues his road back from season-ending surgery on his right knee. Although coach Tom Thibodeau revealed on Sunday that Rose is still not taking any contact in practice, he continued working with his teammates, and will do so even into the playoffs as...
NBA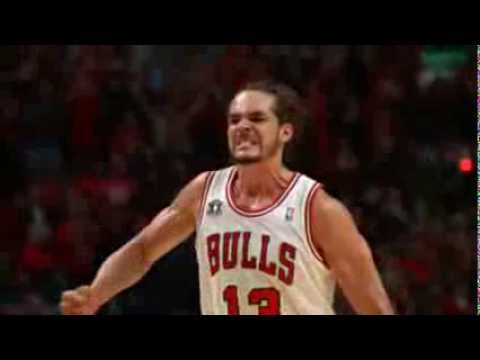 Joakim Noah is known as one of the most intense and hardworking players in the league. The Bulls are following his lead as they continue to fight and get big wins without Derrick Rose and Luol Deng. About the NBA: The NBA is the premier professional ba
ESPNNumbersNeverLie
ESPN Numbers Never Lie's Michael Smith and Jemele Hill discuss the future of Chicago Bulls Derrick Rose.
ESPN
Bruce Bowen discusses the stability that a player like Luol Deng, who is familiar with the Bulls' organization, can help provide while they wait for the return of Derrick Rose.