6:35 AM EDT, Fri October 20, 2017
Last updated Oct 6, 2017
Fred Wilpon Rips Mets Team
Up to the minute news on Fred Wilpon Rips Mets Team
Amazin Avenue
Lots of interesting, funny, idiotic, and insightful things were said by the Mets—and about them—recently. Here are some of our favorites. Your 2017 New York Mets "It's time to pile on." -Terry Collins on local media reports criticizing, among other things, his bullpen usage this season [MLB] "This has been a tremendous run, had a great time, it's been a wonderful experience. I owe the Wilpons, (owner) Fred, (COO) Jeff, and Saul (Katz) — Jeff Wilpon brought me here and I thank him. We shared a lot of things. Unless you sit in this chair you don't know what goes on behind the...
CBS NY
Terry Collins was supposed to be a sacrificial lamb in the wake of the Bernie Madoff scandal that nearly cost Fred Wilpon the Mets. He was supposed to be a seat warmer for someone better until the organization got its house in order.
Amazin Avenue
The Terry Collins era of managing has come to an end. After the Mets finish the final game of their dreadful 2017 season, Terry Collins will officially resign as manager, according to multiple reporters who cover baseball and the team. It was known for months that Collins would probably not return as manager in 2018, but things became crystal clear the other day when Marc Carig of Newsday broke the news that Collins had been spared the loss of his job as a manager by principal Mets owner Fred Wilpon. The highlight of Collins's tenure as manager was undoubtedly the team's run to the 2015...
Sports Illustrated
Fred Wilpon has reportedly used his influence to protect Terry Collins's job during the manager's tenure in Queens.
Amazin Avenue
Your Friday morning dose of New York Mets news, notes, and links. Meet the Mets Mets owner Fred Wilpon reportedly blocked the firing of Terry Collins multiple times during the manager's tenure. But it looks like Collins and the team will part ways this offseason, when the manager's contract expires. Pitching coach Dan Warthen might be on his way out as well after a season in which his famed slider lost its mystique. One person who apparently will be spared from the chopping block: trainer Ray Ramirez. The Mets are reportedly interested in Rays third base coach Charlie Montoyo to...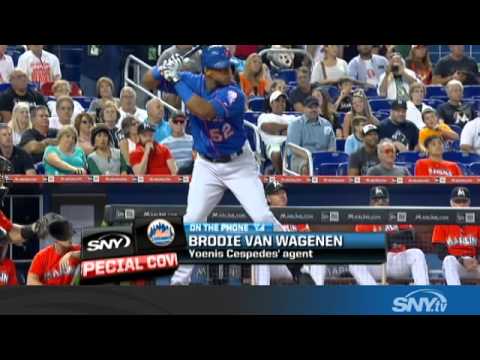 New York Mets COO Jeff Wilpon, GM Sandy Alderson, and agent Brodie Van Wagenen hold a conference call to discuss the team's three-year agreement with Yoenis Cespedes to bring the slugger back to Flushing.