8:49 AM EDT, Wed April 25, 2018
Last updated 16 hours ago
Green Bay Packers Injuries
Up to the minute news on Green Bay Packers Injuries
Windy City Gridiron
A roundtable discussion on two of the top prospects in this draft class and whether there is value to be found if the Bears look elsewhere with their first round pick. It's week 5 in the 2017 season. Passionate Bear Danny Trevathan is suspended for playing through the whistle and incidentally knocking helmets with some whiny Packers receiver whose name escapes me. 2016 All-Star Jerrell Freeman and up-and-comer Nick Kwiatkoski are both out due to pectoral injuries. John Timu—a practice squad promotion—falls forward over a pinned, externally-rotated leg and is out for the game....
Acme Packing Company
Minnesota has been especially fortunate to draft first round talents who are predicted to go much sooner in recent seasons. Are there more high-value picks in store this year? I still remember my head slumping over in disgust during the first round of the 2007 NFL Draft as the Minnesota Vikings made Adrian Peterson the seventh overall selection. More than a decade and 11,747 regular season Viking rushing yards later, I still shake my head at Minnesota's first round luck when Peterson very well could have been selected in the top three picks if not for a freak collarbone injury. Peterson...
Acme Packing Company
Related: why did so few of the top running backs seem to want to run the 3-cone drill this year? This is the fourth article in a multi-part series that will attempt to project what the Green Bay Packers' draft board will look like at each position in the 2018 NFL Draft. The Green Bay Packers do not enter the 2018 NFL Draft in apparent need of help at the running back position on paper; between Jamaal Williams, Aaron Jones, and Ty Montgomery, the team has a trio of intriguing talents with a variety of different skill sets. However, as last year's injury issues showed, a team can never...
Acme Packing Company
The NFL schedule was released this week giving insight to who the Packers will be facing against both on the road and at home this coming season. The NFL schedule was recently released, providing Green Bay Packers fans with a glimpse at what the road to a playoff berth might look like. The Packers landed a sweet spot for a bye week in Week 7. That'll give any players with minor injuries a chance to rest up, while the most difficult stretch of the regular season follows. Which brings us to the Top-five games so far for the 2018-2019 season. Granted, a lot can change from now until the...
Acme Packing Company
Reports of a Josh Rosen fall and teams enamored with Lamar Jackson could put Green Bay in a position to take advantage. Quarterback upheaval this offseason could provide an enormous boost for the Packers. And we're not talking about the latest episode of Days of Aaron's Lives. UCLA quarterback Josh Rosen, a polished but polarizing player, may fall in the draft according to recent reports as teams wonder about both his attitude and his ceiling, as well as his injury history. Meanwhile, Louisville standout Lamar Jackson caught the eye of a number of teams, and we're talking about as a...
Acme Packing Company
The Packers seem likely to draft a lineman or two this year, and here are some names to watch. One of the more "under the rug" needs in Green Bay right now is the offensive line, which was ravaged by injuries a year ago. While David Bakhtiari and Bryan Bulaga make up one of the elite bookend pairings in the NFL, both of them missed time a year ago, with Bulaga eventually suffering his 2nd Torn ACL of his career. Lane Taylor and Corey Linsley are at worst very serviceable on the interior. With Jahri Evans' one year contract now expired, a hole is open at right guard. What are the...
Acme Packing Company
Will the Packers go by committee or focus on a different back in each game? There are no shortage of options for the rushing attack. The Green Bay Packers rotated through a trio of productive running backs in 2017 thanks to a variety of injuries, and they appear to have hit well on two of their rookie draft picks last season. Early in the season, third-year pro Ty Montgomery was a workhorse, rarely leaving the field until he was injured a few weeks in. 5th-round pick Aaron Jones ran away with the job for a few weeks, showing excellent speed and vision until being sidelined by an injury of...
Acme Packing Company
On Monday afternoon, the NFL released the official dates for the offseason programs and practices for each of the 32 teams in the league. This consists of the offseason conditioning program, Organized Team Activities, and mandatory minicamp. These programs have several phases, starting with "Phase One" which consists of only strength and conditioning work and injury rehab. For the Green Bay Packers, that portion of the program will start on Monday, April 16th. The second phase lasts three weeks, starting on April 30th, and allows for individual or small group workouts and instruction on...
ClutchPoints
The Green Bay Packers have a number of areas they want to address, especially on the offensive side of the ball. Among the most notable will be which player takes over as the teams starting running back. The injury woes of Ty Montgomery in the 2017 NFL season forced the Packers to rely on their other promising, […] The post Packers HC Mike McCarthy says Ty Montgomery is a 'damn good' running back appeared first on ClutchPoints.
Windy City Gridiron
Orange is the new Navy Blue, Steltz sues the NFL, owners meet and change rules and much more... BEAR DOWN, CHICAGO BEARS, BEAR DOWN!!!! BEARRRSSSS / DRAFT / FREE AGENCY Jahns: Matching Packers' bid for CB Kyle Fuller was easy call for Bears GM Ryan Pace - Chicago Sun-Times - "Green Bay was one of those ones we thought could be a possibility," Pace said during the NFL's annual meetings. Finley: Ex-Bears safety Craig Steltz suing NFL over concussions - report - Chicago Sun-Times - Craig Steltz is suing the NFL over traumatic brain injuries suffered as a special teams specialist from...
Acme Packing Company
Even after adding Muhammad Wilkerson, the Packers could draft a pass rusher with their top pick. The Green Bay Packers have made some significant additions in free agency, including bringing in former New York Jets defensive lineman Muhammad Wilkerson to bolster the pass rush. Still, the team could address the front seven again in the upcoming NFL draft, especially at outside linebacker where the injury-prone Clay Matthews and Nick Perry sit atop the depth chart. With that in mind, SB Nation draft guru Dan Kadar selected Boise State linebacker Leighton Vander Esch for the Packers at No. 14...
Cat Scratch Reader
The restricted free agent returns to Carolina on a 1-year deal. The Panthers announced today that they have re-signed cornerback Ladarius Gunter to a 1-year contract. Gunter was previously a restricted free agent whom the Panthers chose not to tender before the start of free agency. He came to Carolina off of waivers after being cut by the Green Bay Packers early last season. Gunter is not a signing that will likely move the needle at the cornerback position. If nothing else, he will provide a solid camp body who is familiar with the Panthers' defense. Even with multiple injuries on the...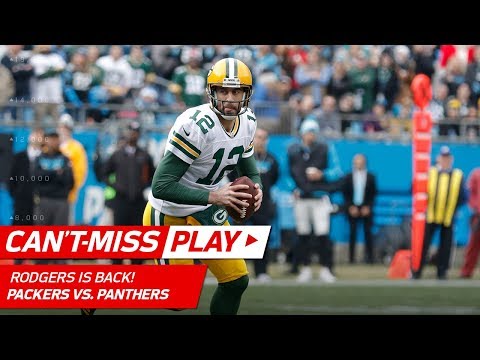 The Green Bay Packers take on the Carolina Panthers in Week 15 of the 2017 NFL Season. Watch full games with NFL Game Pass: https://www.nfl.com/gamepass?campaign=sp-nf-gd-ot-yt-3000342 Sign up for Fantasy Football! http://www.nfl.com/fantasyfootball