8:51 AM EST, Thu February 23, 2017
Last updated Feb 18, 2017
Jeremy Lin Contract Negotiations
Up to the minute news and rumors on Jeremy Lin's contract
Inquisitr
If and when Jeremy Lin returns to the Brooklyn Nets lineup after the All-Star break he may not be hard to recognize. The veteran guard is sporting a new "Jimmy Neutron" style hairdo that makes even his many unique looks before seem ordinary. Lin, who has previously worn his hair in pony tails, cornrows and a high spike, recently took to Instagram to share shots of his latest cartoon-fashioned creation. In the caption, Lin hinted that the look was for a "secret project." The Nets signed the 28-year veteran to a three-year, $36 million deal in summer free agency and to date there...
New York Post
Greivis Vasquez, who was signed to be Jeremy Lin's backup but was bought out in the wake of ankle woes, told Hoopshype he had a second surgery in November and hopes to come back and play for Brooklyn next season. "The last two years, I played 23 or 24 games with a badly atrophied ankle,''...
Stephen Curry and Jeremy Lin behind the scenes of the 2017 Chinese New Year from the NBA.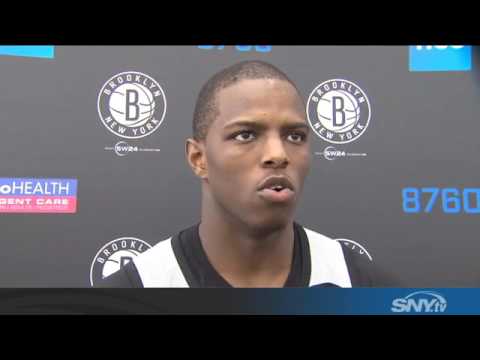 Rookie Isaiah Whitehead and coach Kenny Atkinson discuss how the Brooklyn Nets must replace point guard Jeremy Lin, who is sidelined for at least 2 weeks with a hamstring injury.