10:51 AM EDT, Thu March 30, 2023
Last updated 11 hours ago
Miami Marlins Hot Stove Rumors 2023
Up to the minute news on Miami Marlins Hot Stove Rumors 2023
New York Post
Omar Narvaez, a free-agent signing in the offseason, will be behind the plate catching Max Scherzer for the Mets' Thursday's opener vs. the Marlins.
Amazin Avenue
Rich Storry-USA TODAY Sports Hernández has a strained shoulder. The Mets announced today that Elieser Hernández will start the season on the injured list with a right shoulder strain. The 27-year-old was one of two pitchers the Mets got in a trade with the Marlins early in the offseason and figured to start the season in Triple-A Syracuse regardless of health. Mets general manager Billy Eppler indicated that Hernández was only shut down briefly with the shoulder injury and has already resumed throwing. Assuming the team does, indeed, send him to Syracuse once he's...
Fish Stripes
Photo by Jasen Vinlove/Miami Marlins/ What could Pérez potentially look like once he makes his highly anticipated arrival to The Show? RHP Eury Pérez Eury Pérez, 100mph Fastball & 91mph Changeup. pic.twitter.com/WBPCfoILK4— Rob Friedman (@PitchingNinja) February 26, 2023 Signed as an international free agent (July 2019). Made professional debut for Low-A Jupiter (May 2021). Placed on the seven-day injured list with arm fatigue (August 2022) Ranked Major League Baseball's #7th overall prospect by Baseball America and and #13th overall by MLB Pipeline (2023...
Fish Stripes
Danis Sosa/Fish Stripes Today's Marlins news roundup also includes the updated value of the franchise as estimated by Forbes. Marlins Podcast Episodes According to Craig Mish and Barry Jackson of the Miami Herald, the Marlins are "leaning toward" an Opening Day roster construction that includes both Bryan De La Cruz and Jesús Sánchez and only one of Yuli Gurriel and José Iglesias. The veteran non-roster invitees can opt out of their minor league contracts on Saturday and become free agents if they're not selected. Their report adds that Johnny Cueto...
Fish Stripes
Sam Navarro-USA TODAY Sports A bounce-back season from García is vital to the Marlins' chances of being competitive. Find all of our articles previewing 2023 Miami Marlins players here. OF Avisaíl García AL All-Star selection in 2017 Signed with Marlins on November 28, 2021 for 4 years/$53M. 2023 is his age-32 season Heath Bell, Wei-Yin Chen, Mike Morse...Avisaíl García? If 2022 was representative of the player he's going to be moving forward, the Venezuelan outfielder is a candidate to be added to this infamous list of terrible Marlins free agent signings....
NESN.com
Former Boston Red Sox infielder José Iglesias could land his next contract before the start of the 2023 Major League Baseball season. Iglesias, 33, remains one of the best and most defensively gifted infield options left on the free agency market. But the 11-year veteran could quickly sport a new uniform as the Miami Marlins […] The post MLB Rumors: NL Team Interested In Ex-Red Sox José Iglesias appeared first on NESN.com.
Fish Stripes
Isaac, Kevin and Ely get Joe's insights on how the Marlins look midway through Spring Training and what mistakes put them in this position. Recurring guest Joe Frisaro of Man On Second Baseball covers so much ground with Isaac Azout, Kevin Barral and Ely Sussman. Topics include: Remembering Cullen McRae Significance of losing Spring Training games Miami's weird defensive alignment Starting rotation and left field roster battles First impressions of Skip Schumaker Using pitch clock to your advantage Marlins whiffing on 2018 and 2019 top draft picks Would you trade Eury...
Amazin Avenue
Photo by Megan Briggs/ Brigham is another dude with a sweepy slider that the Mets added this past offseason. The Mets made a bunch of high-profile bullpen acquisitions this offseason, retaining Edwin Díaz and Adam Ottavino and adding David Robertson and Brooks Raley. They also did a lot of lower-profile work to rebuild the general bullpen depth, including a trade with the Marlins for 31-year-old right hander Jeff Brigham. He's not the sort of pitcher who's going to strike out 50 percent of the batters he faces or close out games in the playoffs, but Brigham is an...
Fish Stripes
Today's Marlins news roundup also includes details about our 2023 fantasy baseball league. Monday's Marlins Game Coverage Marlins Podcast Episodes I am the commissioner of a 2023 fantasy baseball league that's exclusively for paid subscribers of the Fish Stripes Twitter account. Click the link for details if you're potentially interested. Only a few spots remaining! Charles Leblanc, the lone infielder or outfielder in Marlins major league camp who hasn't appeared in a Grapefruit League game yet, has been working his way back from an undisclosed injury, per Noah...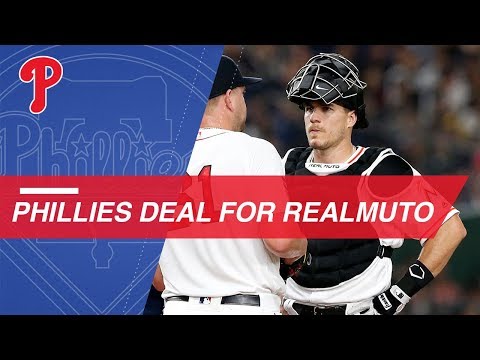 Marlins All-Star catcher J.T. Realmuto could potentially be a trade candidate this offseason About Major League Baseball: Major League Baseball (MLB) is the most historic professional sports league in the United States and consists of 30 member clubs in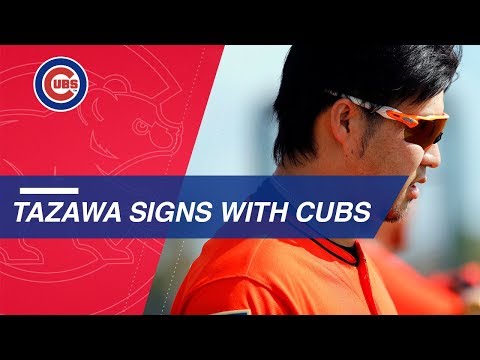 Junichi Tazawa will enter free agency in 2019 after splitting time pitching for the Marlins and Angels in 2018 About Major League Baseball: Major League Baseball (MLB) is the most historic professional sports league in the United States and consists of 3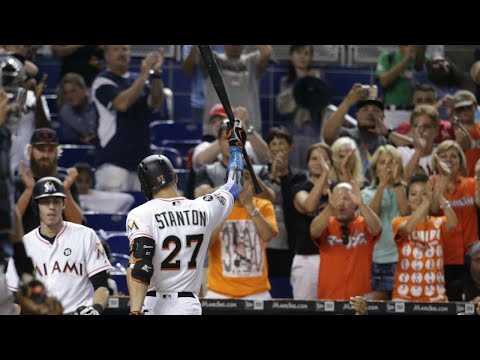 Tim and Sid discuss the seemingly increasing chances that the Miami Marlins will be trading the MLB home run and RBI leader for 2017, Giancarlo Stanton.