2:50 PM EDT, Sat March 28, 2015
Last updated 20 hours ago
Miami Marlins Injuries
Up to the minute news on Miami Marlins Injuries
Fish Bytes | Miami Herald
KISSIMMEE -- Jose Fernandez's return from Tommy John surgery hasn't hit any speed bumps yet and if things continue to progress as they have he'll likely begin facing live hitters in about a month. "There are X amount of bullpens...
Mets Blog | ESPN New York
TAMPA, Fla. -- Bobby Parnell allowed a double in a scoreless, 17-pitch inning against the Miami Marlins' Triple-A affiliate Wednesday in Port St. Lucie as the former New York Mets closer continues the final stages of his rehab from elbow surgery. This arguably marked Parnell's first game since undergoing Tommy John surgery last April 8, although Parnell did pitch in a minor-league intrasquad game on Sunday. Parnell's velocity only sat at 87-91 mph, but he said he was trying not to overthrow.
Fish Bytes | Miami Herald
VIERA -- Outside of Adeiny Hechavarria's "tired arm" that caused the shortstop to miss a handful of games early on, the Marlins have avoided a serious spring training injury to any of their players. And, yes, they are knocking on...
Mets Blog | ESPN New York
Jenrry Mejia was actually better against left-handed hitters than right-handed hitters in 2014.We'll run through most of the Mets' roster for 2015 with a look at the key stats to know heading into this season. 2014 Recap Jenrry Mejia started the season in the starting rotation, but an injury to Bobby Parnell and the struggles of Kyle Farnsworth and Jose Valverde, combined with poor outings against the Marlins and Rockies in late April/early May led to a change in roles.
Mets Blog | ESPN New York
Rob Foldy/Matt Harvey takes the mound on Wednesday against the Marlins in his second game since Tommy John surgery.PORT ST. LUCIE, Fla. FIRST PITCH: Another Matt Harvey Day already has arrived! Harvey is slated to throw 45 to 50 pitches, ideally over three innings, as the Mets travel to Jupiter on Wednesday to face the Miami Marlins at 1:05 p.m. Harvey was perfect against the Detroit Tigers in his first Grapefruit League appearance, retiring all six batters he faced while topping out at 99 mph with his fastball.
Mets Blog | ESPN New York
JUPITER, Fla. -- Matt Harvey was a mere mortal in his second appearance since Tommy John surgery. After a perfect two-inning showing in which he topped out at 99 mph five days earlier, Harvey this time surrendered two runs on six hits and a walk in 2 2/3 innings against the Miami Marlins before departing with his pitch count at 49. Harvey's fastball again was electric in the first inning at Roger Dean Stadium on Tuesday. He sat at 96 mph and touched 98 mph in that frame, when he surrendered a one-out single to Christian Yelich but picked him off to face the minimum.
Washington Post
The Nationals travel to Jupiter Tuesday morning and Max Scherzer will go with them to face the Marlins, his second start of the spring. He'll headline a travel squad absent many of Washington's usual regulars, but featuring a new one: Michael Taylor, who will likely be the Opening Day center fielder after Denard Span's abrupt Monday morning surgery. Scherzer faces old friend and former Nat Dan Haren and a Marlins lineup featuring most of the Miami regulars. The lineups are below. Discuss away!Read full article >>
Newark Star-Ledger
Edgin raised eyes by pitching with diminished velocity Monday in the Mets' loss to the Marlins.
Mets Blog | ESPN New York
Harvey LAKE BUENA VISTA, Fla. -- Pitching coach Dan Warthen plans for Matt Harvey to throw 45 to 50 pitches and ideally three innings in Wednesday's Grapefruit League game against the Miami Marlins in Jupiter. Harvey retired all six batters he faced and sat at 96 to 98 mph on the radar gun with his fastball on Friday, in his first game since Tommy John surgery. He required only 25 pitches that day.
Belleville News Democrat
Right-hander Lance Lynn left the St. Louis Cardinals' spring training game in the second inning Sunday with a left hip flexor strain, but six relievers combined to allow only one…
Mets Blog | ESPN New York
PORT ST. LUCIE, Fla. -- Despite losing Yu Darvish to a potentially season-ending elbow injury, Gee Darvish the Texas Rangers are "not especially interested" in excess Mets starter Dillon Gee right now, Jon Heyman tweeted. The Mets and Texas did talk early in the winter about Gee. After tossing 2 2/3 scoreless relief innings on Saturday against the Miami Marlins, Gee said about Darvish's injury: "I did see that. In my mind all I'm really thinking about is, 'That sucks for Darvish.
Boston Red Sox Blog | ESPN Boston
FORT MYERS, Fla. -- Takeaways from the Fort, where the Red Sox fell to the Miami Marlins, 5-3, in their Grapefruit League home opener before a crowd of 9,830 in JetBlue Park: -- The day's most positive development may have come off the field, where manager John Farrell sounded much more optimistic about outfielder Rusney Castillo's strained left oblique muscle than he had when Castillo first incurred the injury Tuesday night while taking a swing against Boston College.
MLB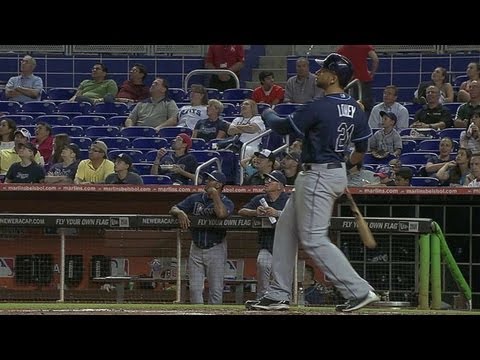 5/30/13: James Loney leads off the seventh with a solo homer off Ricky Nolasco that gives the Rays a 3-1 advantage over the Marlins Check out http://MLB.com/video for more! About MLB.com: Baseball Commissioner Allan H. (Bud) Selig announced on January 19