4:36 AM EDT, Thu June 01, 2023
Last updated May 24, 2023
Miami Marlins Injuries
Up to the minute news on Miami Marlins Injuries
Fish Stripes
Photo by Peter Joneleit/Icon Sportswire via An updated look at the top Miami Marlins prospects. For a low-budget franchise like the Miami Marlins, scouting and player development will always be crucial. To ultimately compete at the major league level, the Fish must first identify players with promising talent and makeup, then bring out the best in them. Some will matriculate to Miami's roster, while others will be flipped elsewhere for more complementary pieces, and the reality is, some won't succeed as pros, derailed by injuries, exploitable weaknesses and/or...
Fish Stripes
Photo by Bryan Cereijo/ Letting you know who's out with injuries, what they're recovering from and when to expect them back on the field. No ability is more important than availability. With that in mind, Fish Stripes has created this landing page to be frequently updated throughout the baseball season with the latest on injuries affecting Miami Marlins players in both the majors and minors. Major League Injuries RHP Nic Enright (60-day IL, Hodgkin's Lymphoma) Last official game appearance: May 20 (rehab assignment, Jacksonville) Marlins Positivity Alert Nic...
Call to the Pen
The Miami Marlins have plenty of injuries and excuses at the moment, but they need to find a way to win anyway. What a difference a week makes for the Miami Marlins. Last Wednesday, the club made some major waves when they promoted top prospect Eury Perez to the majors. It was an aggressive, win-now […] Why the banged-up Miami Marlins still need to compete anyway - Call to the Pen - Call to the Pen - MLB News, Rumors, Prospects, and more
Fish Stripes
FOCO The new collection unveiled on Wednesday includes 150 individually numbered bobbleheads of Snoopy in Marlins gear. Impeccable timing: days after the Miami Marlins lost outfielders Jazz Chisholm Jr. and Jesús Sánchez to injuries, there's a new power hitter on the market, and his price tag is only $65. As announced by FOCO on Wednesday, the latest addition to the manufacturer's popular line of bobbleheads features "Peanuts" icon Snoopy dressed in all 30 MLB teams' signature colors and logos, complete with a baseball bat, team hat and team uniform (in the...
Fish Stripes
Chisholm had played in 39 of the first 40 Marlins games before hurting the foot on Saturday. On Tuesday, the Miami Marlins placed Jazz Chisholm Jr. on the 10-day injured list with turf toe in his right foot, stemming from a play in Saturday's game against the Cincinnati Reds. The injury is projected to keep him out for the next 4-6 weeks, per manager Skip Schumaker. The Marlins recalled Xavier Edwards from Triple-A Jacksonville in a corresponding roster move. Chisholm was pursuing a fly ball in deep left-center field when his right foot struck the base of the wall at an...
Fish Stripes
Sam Navarro-USA TODAY Sports Today's Marlins news roundup also includes Miami's updated odds of reaching the postseason. Sunday's Games Marlins Podcast Episodes Sunday's Marlins MiLB notes: Jacob Amaya (Jacksonville) went 3-for-5 to cap off an awesome 10-for-22 week. Geoff Hartlieb has made it through 6 1⁄3 innings pitched this season without allowing a run. Pensacola won for the 16th time in their last 17 games. Ian Lewis' season in Jupiter continues to be a frustrating one. He was caught stealing for the sixth time—most in the Florida State...
Fish Stripes
Photo by Peter Joneleit/Icon Sportswire via Today's Marlins news roundup also includes several key injury updates. Tuesday's Games Marlins Podcast Episodes Tuesday's Marlins MiLB notes: In what's supposed to be his penultimate rehab game, Joey Wendle (Jacksonville) went 0-for-5 with four strikeouts (all swinging). For context, Wendle has never had a "golden sombrero" during his major league career. Eury Pérez (Pensacola) struck out 11 of the 18 batters he faced. Davis Bradshaw (Beloit) boosted his batting average to .426, one of the highest...
Fish Stripes
Jasen Vinlove/Miami Marlins/ Today's Marlins news roundup also includes Bryce Harper's stunningly fast return from Tommy John surgery. Marlins Podcast Episodes As we await word on whether or not Luis Arraez won National League Player of the Month, enjoy John Turlington's new Down the Dorsal breakdown of how he hit for the cycle. Nick Turok briefly makes the case for other players to be considered for our Marlin of the Month award. And Louis Addeo-Weiss raves about Arraez's March/April production in his first What Went Well column of 2023. Elsewhere...
Fish Stripes
Jim Rassol-USA TODAY Sports Edwards ascends to The Show for the first time on the heels of an excellent April. The Miami Marlins recalled prospect Xavier Edwards prior to Tuesday's game, while placing Avisail Garcia (left back tightness) on the 10-day injured list. The Marlins acquired the 23-year-old Edwards from the Tampa Bay Rays in a four-player trade this past offseason. He had a relatively quiet Spring Training, but towards the end of camp, manager Skip Schumaker disclosed the club's plan to experiment with playing the longtime infielder in center...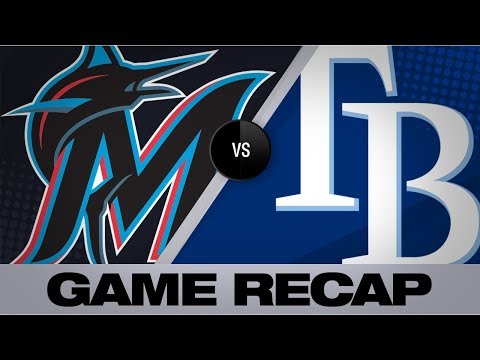 Condensed Game: Michael Brosseau and Jesus Aguilar each crushed a home run as the Rays cruised to a 7-2 victory over the Marlins Don't forget to subscribe! https://www.youtube.com/mlb Follow us elsewhere too: Twitter: https://twitter.com/MLB Instagram: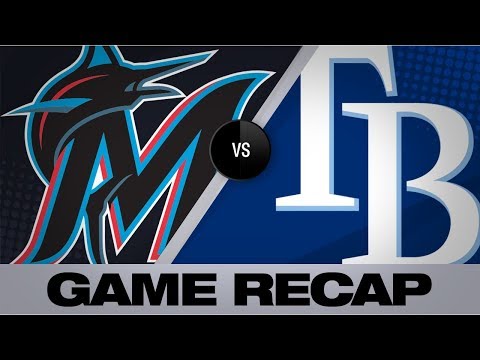 Condensed Game: Willy Adames slugged a go-ahead homer in the 8th, while Eric Sogard crushed his first two homers with the team in an 8-6 win Don't forget to subscribe! https://www.youtube.com/mlb Follow us elsewhere too: Twitter: https://twitter.com/MLB