8:42 AM EST, Mon November 18, 2019
Last updated Nov 16, 2019
Minnesota Timberwolves Injuries
Up to the minute news on Minnesota Timberwolves Injuries
The Dream Shake
Troy Taormina-USA TODAY Sports Seven in a row? Here we come! The Houston Rockets are looking for their seventh win in a row tonight when they head northward to take on the Minnesota Timberwolves. And Houston is still battling many injuries. Of course, Clint Capela and Eric Gordon are still out, but now Russell Westbrook will also sit tonight for load management, while Danuel House is listed as questionable and will likely be a game-time decision. P.J. Tucker has a sore hand, but he is not listed on the injury report and is expected to play. As for Minnesota, Andrew Wiggins is listed as...
The Dream Shake
Maybe the NCAA's 3rd all-time leading scorer can play a little, and not just BE little (in NBA terms). | Jesse Johnson-USA TODAY Sports Harden & The Bench Roll On One could have forgiven the Rockets for losing this one. After defeating an Indiana team that always plays hard, and hard-nosed, the Rockets got on a plane and flew to Minneapolis, arriving after 3am. That looks like a schedule loss right there. Add to it planned rest for Russell Westbrook, injury absences for Eric Gordon, Danuel House and Clint Capela and the Rockets were down at least three starters by any measure. That...
ClutchPoints
Houston Rockets center Clint Capela will miss his second straight game on Saturday when the team takes on the Minnesota Timberwolves. Capela did not travel to Minnesota. He's still dealing with a concussion: #Rockets Injury/Status Report:Russell Westbrook (OUT–Rest)Danuel House (QUESTIONABLE–Sacral Contusion)Clint Capela (Not With Team –Concussion)Michael Frazier (G League)Eric Gordon (NWT–R Knee Arthroscopy)Gerald Green (NWT–L […] The post Rockets C Clint Capela has been ruled out vs. Timberwolves appeared first on ClutchPoints.
The Dream Shake
Photo by David Sherman/NBAE via The Rockets picked up a big win last night against a fellow shorthanded team. Now, they have to fly to Minnesota and play a hungry Timberwolves squad. The Rockets will have three players available (all numbers approximate) tonight with Clint Capela (concussion), Danuel House Jr. (back), Eric Gordon (knee), and Russell Westbrook (rest) will be sitting. That only leaves James Harden and P.J. Tucker from Houston's normal starters in the lineup. Houston will try to wring a few more minutes out of Tyson Chandler and Ben McLemore tonight. Houston will...
Inquisitr
With a lineup that has been depleted by injuries to stars such as Stephen Curry and Klay Thompson, the Golden State Warriors currently have a 2-7 win-loss record, putting them at second-to-last in the Western Conference. Due to their dwindling chances of returning to the NBA Finals, a report recently suggested that Golden State could shake up its roster and reload for the coming seasons by engaging in a three-way trade that would allow them to acquire one of the league's best centers, Detroit Pistons star Andre Drummond.Click here to continue and read more...
ClutchPoints
Well, it did not take long for D'Angelo Russell to make a statement. After missing the last three games with an ankle injury, Russell exploded for a career-high 52 points against the Minnesota Timberwolves on Saturday night. He also made Warriors history in the process, doing something that has not been done since the days […] The post D'Angelo Russell becomes first player in Warriors history since Rick Barry to post 50 points, five rebounds and five assists appeared first on ClutchPoints.
ClutchPoints
Barring a late setback, Golden State Warriors guard D'Angelo Russell will likely play Friday against the Minnesota Timberwolves, according to NBC Sports Bay Area's Monte Poole. Russell will miss his third straight game on Wednesday due to an ankle injury when the Warriors take on the Houston Rockets. Barring a setback, the Warriors guard likely […] The post Warriors' D'Angelo Russell likely to return Friday vs. Timberwolves appeared first on ClutchPoints.
Grizzly Bear Blues
Justin Ford-USA TODAY Sports The Grizzlies welcome the Minnesota Timberwolves and Karl-Anthony Towns to the Forum as he returns after his two-game suspension. WHO: Memphis Grizzlies (1-5, 1-3 home) vs. Minnesota Timberwolves (4-2, 3-1 away) WHERE: FedExForum in Memphis, Tennessee WHEN: 7:00 PM CT HOW TO WATCH: Fox Sports Southeast/92.9 FM ESPN Memphis INJURY REPORT- MEMPHIS- Jae Crowder (Probable, Back Soreness); Jaren Jackson Jr. (Probable, Right Knee Soreness); Grayson Allen (Out, Left Ankle) MINNESOTA- Jordan Bell (Day-to-Day, Calf); Shabazz Napier (Day-to-Day, Hamstring); Jeff...
ClutchPoints
Jeff Teague was brought in by the Minnesota Timberwolves in 2017 in hopes of leading a team armed with young talents in Karl-Anthony Towns and Andrew Wiggins. Two years in and Teague's stint for the Timberwolves can be described underwhelming. The former All-Star point guard is coming off a 2018-19 campaign marred by injuries. In […] The post Jeff Teague on his health status, 'I don't think I'll ever be 100 percent' appeared first on ClutchPoints.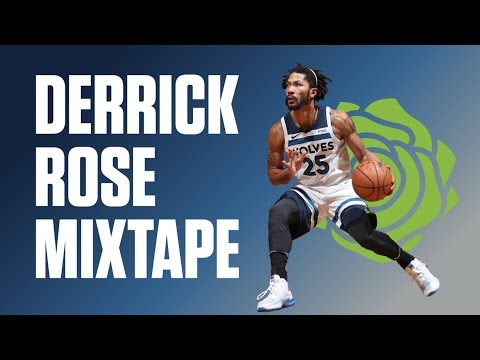 Derrick Rose's injuries have plagued his NBA career and he has fought back to being a All-Star-caliber player in the 2018-19 NBA season, averaging 18 points per game and highlighted by a career high 50-point game for the Minnesota Timberwolves vs Utah Ja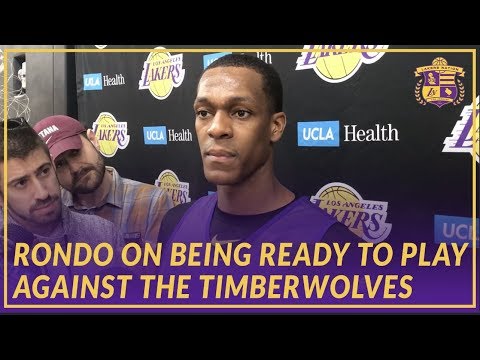 Los Angeles Lakers Guard Rajon Rondo On Being Ready To Play Against the Timberwolves and Returning from injury. #Lakers #RajonRondo #LakersNation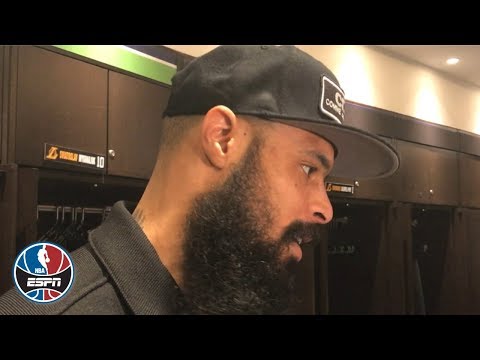 Tyson Chandler discusses the Los Angeles' 108-86 loss to the Minnesota Timberwolves emphasizing the Lakers' needs to be more competitive with LeBron James, Kyle Kuzma, and Rajon Rondo sidelined with injuries. Chandler also talks about playing Dirk Nowitzk