6:21 PM EDT, Fri May 25, 2018
Last updated May 24, 2018
New Jersey Devils Injuries
Up to the minute news on New Jersey Devils Injuries
PensBurgh
At the end of this month the Pens return for oft-injured Beau Bennett will be officially lost, due to injuries of his own Beau Bennett got injured in Pittsburgh in seemingly every way possible. Injured in practice? Check. Injured while celebrating a goal? Check If you thought all that freak bad luck was over when the Penguins acquired a 3rd round pick in 2016 from the New Jersey Devils for Bennett, well guess again. The Pens are about to lose that prospect's rights officially, rights they no longer want due to, what else, a series of unfortunate injuries. With 10 days to go, attached is...
All About The Jersey
Here are your links for today: Devils Links Taylor Hall had surgery to repair torn ligaments in his left hand and will be ready for training camp, Cory Schneider had surgery to repair torn cartilage in his left hip and will need five months to recover, and Patrick Maroon had surgery to repair a herniated disc in his back and would be ready for training camp if the Devils resign him. [NHL] Keith Kinkaid posted his second straight shutout for Team USA at the World Championships, in a 3-0 win over Germany. [USA Hockey] Hockey Links The Carolina Hurricanes have named Rod Brind'Amour as the...
All About The Jersey
The New Jersey Devils released an update on the status of Taylor Hall, Patrick Maroon and Cory Schneider. Today the New Jersey Devils released an update on the medical status of Taylor Hall, Patrick Maroon and Cory Schneider. Taylor Hall had surgery to repair torn ligaments in his left hand. This was performed on April 30th at the Hospital for Special Surgery in New York City by Dr. Robert Hotchkiss. The injury dates back to December, with the Devils medical staff treating it so Hall could continue to play. In the very same hospital on May 1st, Cory Schneider had surgery on torn cartilage...
Last Word on Hockey
The New Jersey Devils have announced that forwards Taylor Hall and Patrick Maroon along with goaltender Cory Schneider all have surgery. Hall and Maroon are expected to be ready for camp in September. Schneider's timeline is estimated at five months and is doubtful to be ready in time for camp. https://twitter.com/NJDevils/status/993853313643925505 Taylor Hall Hall had surgery to repair torn ligaments in his hand repaired on April 30th, but he suffered the injury in late December. He had an all-star year for the Devils scoring 39 and 54 assists for 93 points. He also added 34 minutes in...
Die By The Blade
Injuries were the theme of the season for Jacob Josefson Season Stats: 39 GP | 2 G | 2 A | 4 PTS Age: 27 Contract Status: UFA Jacob Josefson was a low-key free agent signing by Jason Botterill last July. Coming over from the New Jersey Devils where he was a former first-round pick in 2009, Josefson struggled with injuries again. The injury bug has plagued him throughout his career. With the Buffalo Sabres this season it was lower-body injuries that took him out of the lineup. He suffered a high-ankle sprain early in the season that continued to come back and never allow him to get into a...
All About The Jersey
An injury-riddled season have played a role as another tour of duty in Binghamton would not only be beneficial for John Quenneville, but the entire NJ Devils' Organization (After my successful trial launch on a new series that featured Brett Seney, First Impressions will replace Bingo Bites from my past days at S7S. I hope you'll enjoy my added coverage in this new format representing multiple prospects for Binghamton Devils' hockey over the course of the off-season here at AAtJ.) John Quenneville missed nearly half of the season with around 30 games due to injury out of a possible...
All About The Jersey
This year's Devils faced injuries, inexperience, doubters, and runs of poor luck. Next year presents a new obstacle, the burden of high expectation. In case you don't remember where this season started, take a look at this stroll down memory lane to the predictions from your writers here at AAtJ and then the predictions from elsewhere. NO ONE outside AAtJ had us making the playoffs and no one here did either except for Gerard, who had a shockingly accurate prediction for how the season would play out. This helped foster the #NJDvsEverybody rallying cry. This tight nit group of misfit...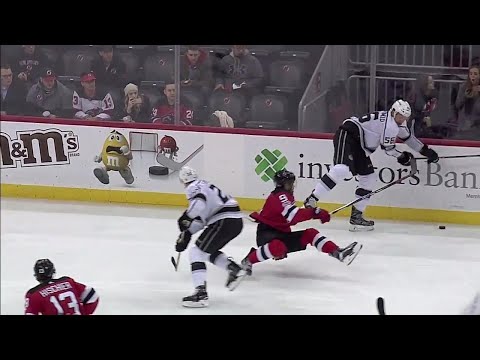 Check this out, as Kurtis MacDermid connects knee-on-knee with New Jersey Devils star Taylor Hall, who tried to shake it off, but eventually left the game due to the injury.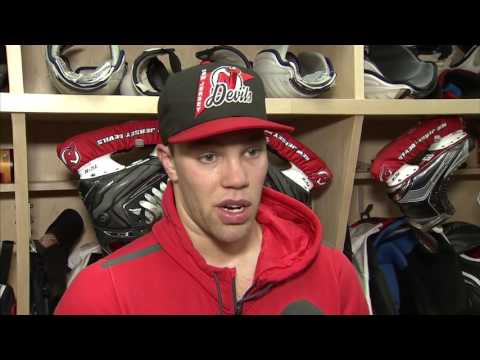 Before I got hurt New Jersey Devils forward Taylor Hall talks about recovery from injury and adjusting to the move to New Jersey.