5:15 PM EDT, Thu August 16, 2018
Last updated 6 hours ago
New Jersey Devils Injuries
Up to the minute news on New Jersey Devils Injuries
All About The Jersey
Coming off of his first season in New Jersey which was marred by injuries, Marcus Johansson has only one year remaining on his contract. With the team seemingly solid on the left, what will be Johansson's fate? While 2017-18 was a step in the right direction for the New Jersey Devils, their early playoff elimination showed that the team still isn't a true contender quite yet. The narratives of the defense, young forwards continuing to progress, and possible issues in net have already been discussed; one story line from last season that has floated a bit under the radar is that of...
The Hockey Writers
In today's news, the Nashville Predators have signed defender Ryan Ellis to a significant contract extension, the Devils signed restricted free agent Steven Santini to a deal and the Zach Werenski outlined his ambitions to not miss a single game this season following shoulder surgery in the offseason. Predators Extend Ellis The Predators were able […] The post NHL News & Notes: Ellis, Werenski & More appeared first on The Hockey Writers.
All About The Jersey
Andy Greene has been a mainstay on the New Jersey Devils defense for the last nine seasons. He is expected to continue to play significant minutes in 2018-19. This is a problem as Greene has declined in recent seasons. This post explains how much Greene has declined and explains why it is an issue. Short of some significant transaction or injury, Andy Greene is expected to start his tenth season as a key defenseman for the New Jersey Devils. Since 2009-10 and the exception of an injury-shortened 2011-12, Greene has been averaging at least 20 minutes of ice time per game the Devils. In...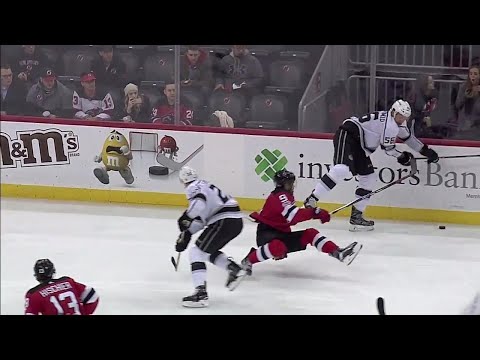 Check this out, as Kurtis MacDermid connects knee-on-knee with New Jersey Devils star Taylor Hall, who tried to shake it off, but eventually left the game due to the injury.