12:03 AM EDT, Mon October 22, 2018
Last updated 2 hours ago
New Jersey Devils Injuries
Up to the minute news on New Jersey Devils Injuries
Last Word on Hockey
YWT #43- Shipping Up To Boston The Philadelphia Flyers had... an interesting week. Two wins, through blowing a three goal lead against the Florida Panthers and a big win over division rival New Jersey Devils, were sandwiched by a poor effort against the Columbus Blue Jackets. The Flyers still got four of a possible six points this week, and they sit at .500 as October starts to wind down. Scott Laughton and Robert Hagg have been among standouts for the Flyers in the early going. Laughton is taking advantage of injuries within the forward corps (James van Riemsdyk and Nolan Patrick, notably),...
Last Word on Hockey
The New Jersey Devils announced that a pair of veteran players are injured and will be re-evaluated in a week's time. Forward Travis Zajac and defenseman Ben Lovejoy will both miss next Thursday's game against the Philadelphia Flyers. Travis Zajac and Ben Lovejoy Injured Zajac was injured in Thursday's loss to the Colorado Avalanche, the first loss of the Devils season. He got tangled up with Mikko Rantanen in the second period and appeared to injure his leg. Zajac left the game and did not return. It was not clear when Lovejoy was injured, but his injury was also reported as a lower-body...
Last Word on Hockey
Steven Santini only played in two shifts against the Philadelphia Flyers on Saturday. The New Jersey Devils defenseman was backing into his own zone when a dumped in puck got deflected into his face. Santini finished off his shift before leaving the game. Reports say he has broken his jaw. Santini was filling in for Ben Lovejoy in the Devils lineup. Lovejoy is reportedly recovering from a lower-body injury, but not many other details have been released.
All About The Jersey
New Jersey Devils & Related Hockey Links for 10/19/18 Here are your links for today: Devils Links The Devils held a third period lead but couldn't hold off the Gabriel Landeskog and the Avs, who dealt the Devils their first loss of the season, in a 5-3 affair on Thursday. The Devils also lost Travis Zajac to an injury in the second period. [All About The Jersey] [NorthJersey.com] [NJ.com] Cory Schneider getting closer to a return: #NJDevils John Hynes says Cory Schneider "is now day-to-day."— Amanda Stein (@amandacstein) October 18, 2018 For what it's worth: Four teams are...
Broad Street Hockey
No one wants the Devils to be Actually Good It's been a fun first couple of weeks in the NHL, and even in this early part of the season the McDavid-Matthews debate is one worth having. The gang also takes a hard look at the league's only remaining undefeated team, the New Jersey Devils, to try and figure out if they're actually this good. In the wake of the Elias Pettersson injury, "dirty hits" are discussed, as well as how Canada's recent legalization of marijuana will affect the league. Follow us on twitter @BSH_Radio so you don't miss out on any fun stuff! And then head...
Last Word on Hockey
Chicago Blackhawks goalie Corey Crawford said he's expected to start his first game of the season Thursday against the Arizona Coyotes. Crawford informed the media on Wednesday of his intentions. The final decision will be made after Thursday's morning skate. https://twitter.com/MarkLazerus/status/1052607097853136900 Corey Crawford Expected to Start Vs. Arizona The Montreal native has been out of the lineup the last 10 months after suffering a concussion. Crawford last played in Chicago's 4-1 loss to the New Jersey Devils on Dec. 23, 2017. He played in 28 games last season and went...
SportsDay
FRISCO -- Stars forwards Alexander Radulov and Valeri Nichushkin did not practice on Thursday morning, but Radulov is expected to play Friday night against Minnesota. Nichushkin is expected to miss his second straight game after he missed the first two of the season with a lower-body injury.Radulov missed the final six minutes of Tuesday's loss in New Jersey after Montgomery said he tweaked something.Defenseman Marc Methot also practiced Thursday morning after soreness kept him out of the loss to the Devils. Montgomery said he'd go back in the lineup, but did not say which defenseman would...
All About The Jersey
New Jersey Devils & Related Hockey Links for 10/17/18 Here are your links for today: Devils Links Kyle Palmieri continued his torrid pace, Keith Kinkaid put up a brick wall and the Devils beat the Stars 3-0 to move to 4-0-0 on the season on Tuesday night. [All About The Jersey] [NorthJersey.com] [NJ.com] The big story out of the game was an injury Will Butcher sustained in the third period, which came on a nasty hit from Roman Polak that sure looked like boarding to this writer. Looks like we'll have to hold our breaths until Thursday. #NJDevils - No update on Will Butcher's status....
All About The Jersey
After a positive start to his season with 2 goals against the Edmonton Oilers in the opener, today we look at whether Travis Zajac will continue to build off of this or revert to the form he showed at the start of last season. The 2017-18 New Jersey Devils season saw what could essentially be dubbed "The Tale of Two Travis Zajacs." It started of course with the summer pectoral injury that required surgery, and Zajac seemingly coming back too early, both in terms of estimated timeline and his play on the ice. Fans said it all from "Zajac looks done" to discussion of regretting his...
All About The Jersey
The Devils are in Sweden, and take on the Edmonton Oilers in their season opener. Welcome back to regular season hockey, Devils fans. It's been a long wait, but now the attention shifts to the 82-game grind. There is no time for the Devils to mess around in proving they are still a playoff team. Every shift counts starting tonight. The Matchup: The New Jersey Devils (0-0-0) versus the Edmonton Oilers (0-0-0) in Gothenburg, Sweden. SBN Blog: Copper and Blue. The Time: 1:00 PM EST The Broadcast: TV - MSG+ Bad Luck: The Devils had their first major injury in practice on Thursday, when Jesper...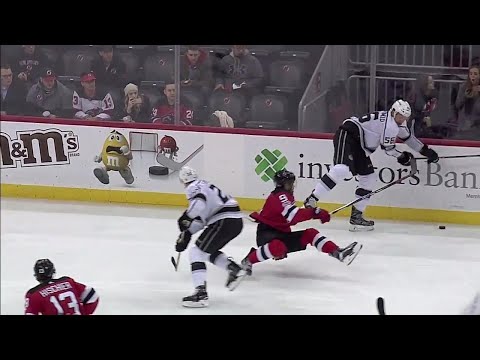 Check this out, as Kurtis MacDermid connects knee-on-knee with New Jersey Devils star Taylor Hall, who tried to shake it off, but eventually left the game due to the injury.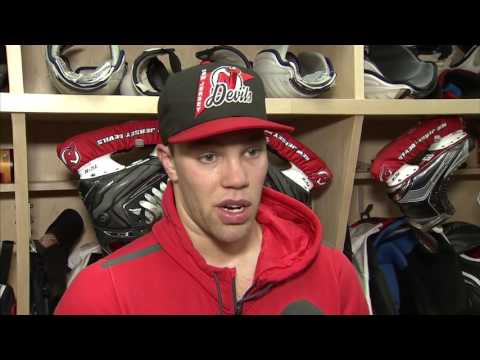 Before I got hurt New Jersey Devils forward Taylor Hall talks about recovery from injury and adjusting to the move to New Jersey.