11:25 AM EDT, Wed October 22, 2014
Last updated Sep 29, 2014
New York Knicks Injuries
Up to the minute news on New York Knicks Injuries
New York Post
One year ago, there was a five-game, NBA-imposed suspension and the recovery from arthroscopic knee surgery hovering over his noggin. Now J.R. Smith enters Knicks training camp feeling strong, fit,...
Knicks Blog | ESPN New York
GREENBURGH, N.Y. –- J.R. Smith is looking forward to starting training camp without having to worry about his health or an impending suspension. "I think it's definitely a clean slate," Smith said at Knicks media day on Monday about going into camp this year. "I think it will be a more productive start of the year for me. There's nothing hanging over my head whether it's injuries, suspensions stuff like that.
Knicks Blog | ESPN New York
Amar'e Stoudemire didn't need to rehab any injuries over the summer. But the Knicks are still proceeding with caution when it comes to the $100 million forward. "Amar'e physically looks great. Looks like he's in fantastic shape," Derek Fisher said on Friday. "He's very focused on coming into this season healthy and I think he's accomplished that goal. ... His knees will be an issue at some point, just manage his minutes in some respects, how we'll limit him in practice, give him some days to get back up to speed and get some rest.
Knicks Blog | ESPN New York
ESPN analyst Jeff Van Gundy thinks Iman Shumpert can carve out a successful NBA career. But Van Gundy thinks Shumpert needs to tweak his approach to do so. "I thought he was on a good track. I thought he had a great rookie year. I think the injury set him back significantly. I think either role confusion or the lack of role acceptance has had him focusing too much on what he doesn't do well versus maximizing what he does do well," Van Gundy said in an interview on Anthony Donahue's internet radio show on The Knicks Blog.
YESNetwork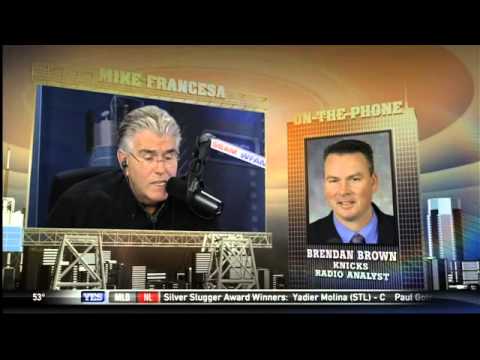 Mike Francesa is joined by Knicks radio analyst Brendan Brown to break down the Knicks' injury woes and struggling defense.