12:36 AM EDT, Sun October 22, 2017
Last updated Oct 20, 2017
New York Knicks Injuries
Up to the minute news on New York Knicks Injuries
New York Post
Knicks practice took a turn for the worst on Friday, when rookie guard Frank Ntilikina went down with an apparent ankle injury. During a competitive game of 4-on-4, Ntilikina hobbled off the floor before going to the ground, clutching his left ankle. He was clearly in a lot of pain and stayed down for several...
New York Post
It's an emotional time for Enes Kanter. His former Utah teammate, Gordon Hayward, suffered one of the most gruesome on-court injuries in recent years Tuesday, after which the Knicks center tweeted his prayers. And his former Thunder teammates are ready to do battle Thursday in the Knicks' season opener at Chesapeake Arena, where Kanter toiled...
New York Post
Frank Ntilikina will sit out his second straight preseason game — Sunday against the Nets — and is still considered day-to-day with a knee bruise, but the 19-year-old said he could return to action Monday night against the Rockets. Ntilikina, who missed all of summer league because of the same injury, said he isn't concerned...
New York Post
Knicks rookie French point guard Frank Ntilikina will miss Friday's preseason game in Washington with a bruised right knee. Ntilikina hurt his groin Monday but still played in the preseason opener Tuesday during which he looked smooth running the offense despite shooting just 1 of 7 and scoring 5 points. He picked up 3 assists...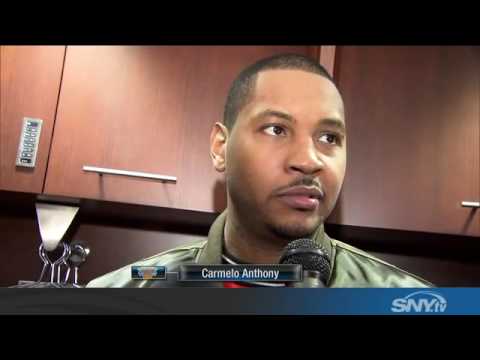 Carmelo Anthony, Jeff Hornacek, and Kristaps Porzingis meet the media after the New York Knicks lost to LeBron James and the Cleveland Cavaliers at MSG, while point guard Derrick Rose remains day-to-day with a back injury.