4:32 PM EDT, Fri October 24, 2014
Last updated Oct 4, 2014
New York Yankees Injuries
Up to the minute news on New York Yankees Injuries
The LoHud Yankees Blog | Journal News
Hit in the face by an instructional league pitch late last month, Yankees third base prospect Eric Jagielo will miss the next four to six weeks. Josh Norris first reported the time table last night, and Mark Newman confirmed this afternoon. In the short term, Jagielo's injury is significant because he was assigned to the […] The post Jagielo out 4-6 weeks; Bichette to take his spot in Arizona Fall League appeared first on The LoHud Yankees Blog.
New York Daily News
Carlos Beltran finally underwent surgery to remove loose pieces and a bone spur from his right elbow, a procedure he's needed since May.
The LoHud Yankees Blog | Journal News
The Yankees just sent the following update on Carlos Beltran. Sounds like his offseason schedule shouldn't be thrown off by much if it's thrown off at all. — Earlier today at NewYork-Presbyterian Hospital, Carlos Beltran underwent surgery to remove loose pieces and a bone spur from his right elbow. The surgery was performed by Yankees […] The post Beltran has bone spur surgery appeared first on The LoHud Yankees Blog.
Newark Star-Ledger
Team expects him to be ready for spring training
Yankees Blog | ESPN New York
The New York Yankees have always spent big. But it's starting to cost them. The Yankees have now missed the playoffs the last two seasons. Why? The team's player investments haven't produced. And, due to a combination of increasing age and injury history, it doesn't seem likely like those investments will be paying any future dividends. Earlier this season, we examined how the team's highest-paid players were performing relative to their contracts using Fangraphs WAR and True Value to measure just how much bang the Yankees were getting for their buck.
Boston Herald
BOSTON — Derek Jeter sped down the first-base line for a chop single over the pitcher's head.His 3,464th hit may have been the last play — and injury — of his career."He probably felt it a little bit in his hamstring," New York Yankees manager Joe Girardi said after Saturday's 10-4 loss to the Boston Red Sox. "He didn't say he was injured, but we'll see."Jeter said before the series that he would be the designated hitter on Saturday and Sunday to finish his 20-year career, but Girardi said, "I'll text him in the morning and see what he wants to do."
Boston Red Sox Blog | ESPN Boston
BOSTON -- With a glimpse into the Red Sox clubhouse Thursday night, one would never expect the sights and sounds to be those surrounding a last-place team. In the center of the room, the antics of jokester Joe Kelly caused the usually reserved Allen Webster to crack up during his postgame interview. Not far off, David Ortiz held court with a separate pack of reporters outside his locker, happily discussing the exploits of New York Yankees shortstop Derek Jeter while remaining surprisingly upbeat about a wrist injury that will sideline him for the remainder of the season.
Newark Star-Ledger
Both suffering from injuries
School of Roch | MASN Sports
NEW YORK - Chase Headley singled with two outs in the first inning and scored on Mark Teixeira's double to right field to give the Yankees a 1-0 lead over the Orioles. Steve Johnson underwent surgery this morning in New York to shave down a bone spur behind his right...
The LoHud Yankees Blog | Journal News
After asking for a couple of injury updates, this was the third question of Joe Girardi's pregame press conference this morning: Do you feel in any way that the team has been hurt overall with Derek playing shortstop every day and batting second? "No," Girardi said. "There's been so much talk about this during the […] The post Pregame notes: The impact of Jeter batting second appeared first on The LoHud Yankees Blog.
YESNetwork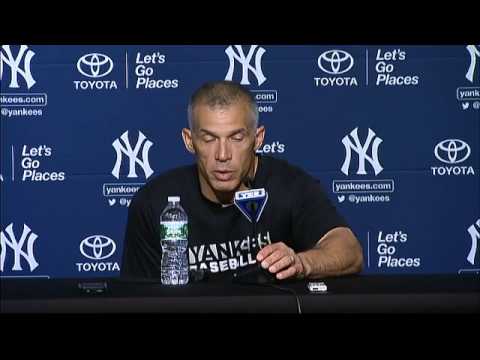 Manager Joe Girardi addresses Mark Teixeira's injury and Masahiro Tanaka's rehab prior to Thursday's game. Subscribe for daily sports videos! Subscribe for daily videos on YES Network: http://yesnet.me/10FUHE2 Follow YES Network on Twitter: http://yesne
YESNetwork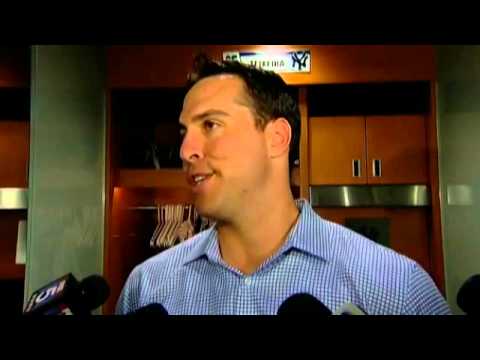 Mark Teixeira talks about the injury he sustained and the lack of offense generated by the Yankees in their 8-0 loss to the Orioles.