4:56 AM EDT, Mon March 19, 2018
Last updated 6 hours ago
Philadelphia 76ers Injuries
Up to the minute news on Philadelphia 76ers Injuries
ClutchPoints
The Charlotte Hornets' chances of making the playoff cut this season are getting dimmer by the day, but it got even darker following a discouraging update on Nicolas Batum's Achilles injury. According to Adrian Wojnarowski of ESPN, the versatile swingman is not going to play in this Monday's road game against the Philadelphia 76ers after […] The post Hornets' Nicolas Batum will miss some time with Achilles problem appeared first on ClutchPoints.
NetsDaily
Same song, different location. The Brooklyn Nets put up a fight against the Philadelphia 76ers in Philly, but couldn't bring it home and lost by four points. Now, they face the second night of a back-to-back. The opponent tonight will be the Dallas Mavericks. The Mavs have been struggling and will have to figure out the direction they want to go in fast. This is night two of a b2b for the Mavs. They lost to the Raptors (in overtime) in Toronto last night. Where to follow the game YES Network on TV. WFAN 101.9 FM on radio. Tip off after 7:30. Injuries Dante Cunningham left yesterday's game...
ClutchPoints
Philadelphia 76ers rookie and No. 1 pick Markelle Fultz is coming dangerously close to missing the rest of the season with a shoulder injury. He's been ramping work as of late, and has been shown shooting before games and at practices. But with only a few weeks left in the year and no update from […] The post Victor Oladipo believes Markelle Fultz's time is coming appeared first on ClutchPoints.
ClutchPoints
Nerlens Noel has been widely perceived as being in the Rick Carlisle doghouse since being traded to the Dallas Mavericks from the Philadelphia 76ers prior to last year's deadline. While the Mavs big man has been out most of this season with injury complications, he refuted any rumors surrounding an alleged rift between him and […] The post Nerlens Noel shuts down rumors of any tiff with Rick Carlisle appeared first on ClutchPoints.
NetsDaily
Oh dear. The Brooklyn Nets came home from their road trip hoping to put together another solid effort. However, the Philadelphia 76ers made sure that didn't happen and they ran the Nets out the gym on Sunday evening. The opponent this evening will be the Toronto Raptors. It's been a dream season for the Raps and a great showing in the playoffs will go a long way for them and their fans. They've been hamging out in the city after beating up the Knicks on Sunday. They've won their last eight games. Where to follow the game YES Network on TV. WFAN 101.9 FM. Tip off after 7:30. Injuries Jarrett...
ClutchPoints
It has been a spectacular year for Philadelphia 76ers youngster Ben Simmons, to say the least. After missing his entire debut season with a pesky foot injury, the Sixers point-forward has evolved into a star player in his rookie season. Simmons is currently averaging 16.4 points, 7.7 rebounds, and 7.6 assists per game while shooting […] The post Ben Simmons has not felt rookie wall during 2017-18 NBA season appeared first on ClutchPoints.
ClutchPoints
Philadelphia 76ers head coach Brett Brown has seen major improvement coming from rookie point guard Markelle Fultz in recent weeks, as he recently increased his shooting range to the three-point line, upon working past a shoulder injury. Fultz was seen taking some corner threes for a start, showing a more set shot than his very […] The post Sixers news: Brett Brown encouraged by Markelle Fultz's progress, remains noncommittal on return appeared first on ClutchPoints.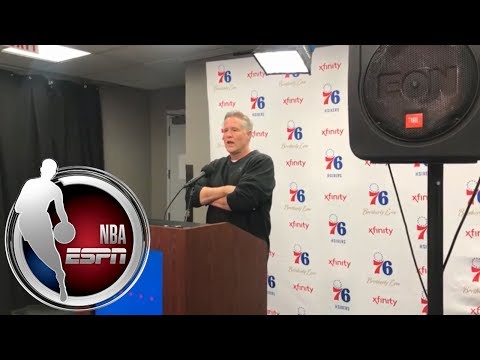 Philadelphia 76ers coach Brett Brown says he might use rookie Ben Simmons at the power forward spot when fellow rookie Markelle Fultz returns from injury. ✔