4:34 PM EDT, Tue March 11, 2014
Last updated Mar 6, 2014
Rob Gronkowski Contract Negotiations
Up to the minute news and rumors on Rob Gronkowski's contract
New England Patriots Blog | ESPN Boston
With free agency around the corner, ESPNBoston.com's Mike Reiss and Field Yates debate the Patriots' greatest need on offense. Read their arguments and vote in our poll to have your say. * Reiss: Tight end is biggest need. The Patriots currently have two tight ends under contract for 2014 -- Rob Gronkowski and D.J. Williams. It's a certainty that they will be adding more. So this is a slam dunk when it comes to the team's most obvious need on offense.
New England Patriots Blog | ESPN Boston
First installment in a multi-part Patriots series on free-agent fits at various positions leading into the start of free agency March 11. Position: Tight end Players under contract for 2014: Rob Gronkowski, D.J. Williams Level of need: High Projected top targets: Scott Chandler (Bills), Garrett Graham (Texans), Michael Hoomanawanui (Patriots) Why Chandler fits: The Patriots know him well from having faced the Bills twice a season, and Chandler has had some of his best games against them.
New England Patriots Blog | ESPN Boston
As teams aim to sign -- or re-sign -- a free agent, they often cultivate their offers by studying players of comparable value and their respective deals. In the case of Saints tight end Jimmy Graham -- the top free agent regardless of position this offseason -- there's little in the way of comparable talents. Except, of course, Patriots tight end Rob Gronkowski. Graham could well receive a deal that makes him the highest-paid tight end in NFL history, surpassing the deal signed by Gronkowski last offseason.
New England Patriots Blog | ESPN Boston
INDIANAPOLIS -- The Patriots were at the forefront of the recent increased reliance on tight ends, as the team selected both Rob Gronkowski and Aaron Hernandez in the 2010 NFL draft. The team also has a need at the position this offseason, as just Gronkowski and D.J. Williams are under contract for next season. So the tight end group at this year's combine is notable in our estimation, and Saturday was their day to take the field at Lucas Oil Stadium for drills.
FOX Sports
FOX NFL Kickoff discusses how different the Patriots are without Rob Gronkowski.
YESNetwork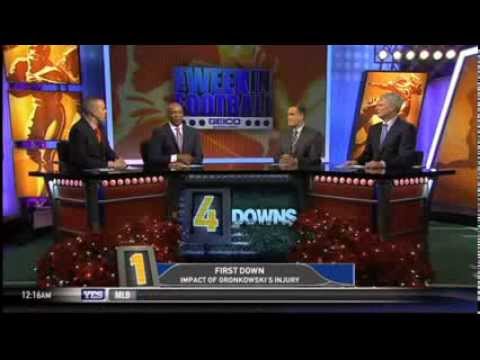 This Week in Football takes a look at the recent loss of Patriots TE Rob Gronkowski and how it impacts him and the team moving forward.