12:30 AM EDT, Wed March 12, 2014
Last updated 21 hours ago
Shane Victorino Injury Update
Up to the minute news and rumors on Shane Victorino's injury
Full Count | WEEI
Shane Victorino will play in his first game of spring training when the Red Sox host the Rays on Monday afternoon, although he will not bat leadoff, deferring to Grady Sizemore. The 33-year-old right fielder is taking it slow in Florida after having offseason thumb surgery. The switch-hitting Victorino is considering hitting exclusively from the [...]
Clubhouse Insider | Boston Herald
FORT MYERS -- The suspense, for now, is over: Shane Victorinos days as a switch-hitter are, for now, over.With right-hander Jake Odorizzi on the mound, Victorino batted right-handed. After an injury late last season, Victroino abandoned hitting left-handed against right-handed pitchers but was coy about it in recent days, when his return to action approached.Victorino was hit by an Odorizzi pitch, a frequent occurrence last season when Victorino dug in right-handed against a righty. 
Full Count | WEEI
Red Sox manager John Farrell offered injury updates on a number of players who have been sidelined for varying durations prior to Friday's Grapefruit League contest against the Braves. Among them: – Farrell said that right-hander Jake Peavy will throw a simulated game on Saturday and then, if all goes well, he'll make his first [...]
MLB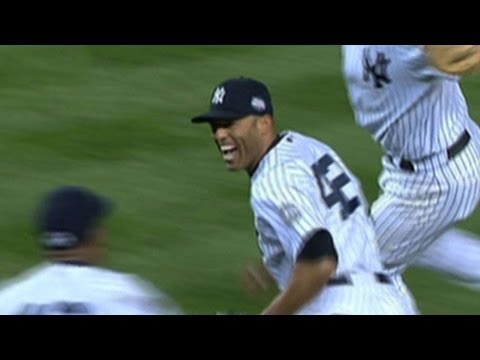 11.04.09: Mariano Rivera gets Shane Victorino to ground out, sealing the victory for the Yankees' 27th World Series title
Clubhouse Insider | Boston Herald
The story of the 2013 Red Sox cannot be written without a lengthy chapter on Shane Victorino, who played a fearless right field en route to a Gold Glove, and then lived up to his reputation as a money player with some of the biggest hits of the postseason, including the grand slam that sent the Red Sox to the World Series.Victorino arrived at camp today and is taking things slow as he recovers from offseason thumb surgery.
Boston Red Sox Blog | ESPN Boston
FORT MYERS, Fla.—Shane Victorino estimates he arrived here around midnight Monday, but that didn't keep him from being the first player in the Sox clubhouse Tuesday morning. He confessed to having gotten a "little itchy and antsy" to start it up. Given his energy level, it will probably be no easy task, but after undergoing surgery to release a nerve in his thumb in December, the 33-year-old outfielder will have to take spring training at less than his usual pace.
The Republican
The Red Sox have no major injury concerns yet, though there were a few minor updates from JetBlue Park on Tuesday.
ESPN
World Series MVP David Ortiz and Red Sox teammate Shane Victorino had their beards shaved for charity to benefit the victims of the Boston Marathon bombings.
MLB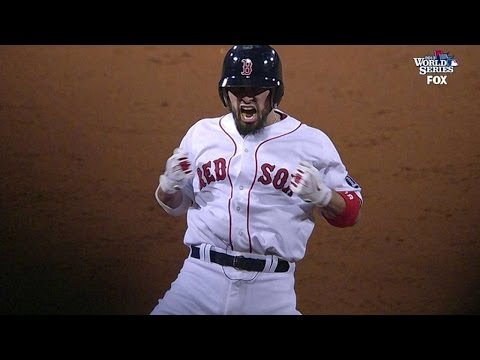 10/30/13: Shane Victorino rips a double off the Green Monster, scoring three runs for an early Red Sox lead