11:20 PM EST, Fri December 06, 2019
Last updated Dec 4, 2019
Texas Rangers Injuries
Up to the minute news on Texas Rangers Injuries
Lone Star Ball
Photo by Jim McIsaac/ Zack Wheeler and the Phillies have agreed on a 5 year, $118 million deal, per multiple reports Zack Wheeler and the Philadelphia Phillies have agreed on a 5 year, $118 million deal, per multiple reports. Evan Grant had reported earlier today that the Texas Rangers, who had Wheeler near the top of their free agent wish list, had been informed they were out of the running. 5 years and a little over $23 million per year is fairly steep for a pitcher with Wheeler's track record, but after dealing with injuries and ineffectiveness early in his career, Wheeler has...
Pinstripe Alley
Noah K. Murray-USA TODAY Sports Rangers considering Andujar; Moustakas signing virtually eliminates Reds from the Gregorius sweepstakes; Yankees tender contracts to every player on the 40-man roster; team executive recognized by Baseball America NJ.com | Mike Rosenstein It is no secret that the Yankees have entertained the possibility of trading their prized young infielder Miguel Andujar, who missed most of 2019 with a shoulder injury. Recent reports are suggesting that the Texas Rangers, a team that may be two or three pieces short of contending for a Wild Card spot, are interested in...
Lone Star Ball
Photo by Ezra Shaw/ Former Ranger reliever Jake Diekman has agreed to a two year deal with Oakland Jake Diekman and the Oakland A's have agreed on a 2 year, $7.5 million deal with a third year option, per reports. Diekman was traded to Oakland last July by the Kansas City Royals, who had signed Diekman to a one year deal last offseason. Diekman is a former Texas Ranger, a fan favorite who came over to Texas from the Philadelphia Phillies as part of the Cole Hamels trade. Diekman was very good for the Rangers in 2015 and 2016, then missed most of 2017 due to surgery stemming from his...
Lone Star Ball
Photo by Stephen Brashear/ Former Ranger Jurickson Profar is reportedly on his way to San Diego MLB Trade Rumors: Jurickson Profar has been sent to the San Diego Padres from the Oakland A's, per multiple reports. Profar, 26, is in his final year of arbitration-eligibility prior to becoming a free agent, and was seen as a potential candidate to be non-tendered by the A's if he was not traded. Profar was one of the top prospects in baseball with the Texas Rangers before a shoulder injury cost him virtually all of the 2014 and 2015 seasons. After a mediocre 2016 campaign, he spent...
Bleed Cubbie Blue
Benny Sieu-USA TODAY Sports Perhaps this season might have turned out differently. Cole Hamels suffered an oblique injury in late April 2017 when he was with the Rangers. At the time, it was said he'd miss about eight weeks. That was just about how much time he did miss; he returned in late June. Even then, he wasn't quite the same pitcher after the injury: Before injury: 5 starts, 32⅔ innings, 3.03 ERA, 1.133 WHIPAfter injury: 19 starts, 115⅓ innings, 4.53 ERA, 1.223 WHIP The same thing happened to Hamels in 2019. He made 17 starts for the Cubs up to the end of June, posting a...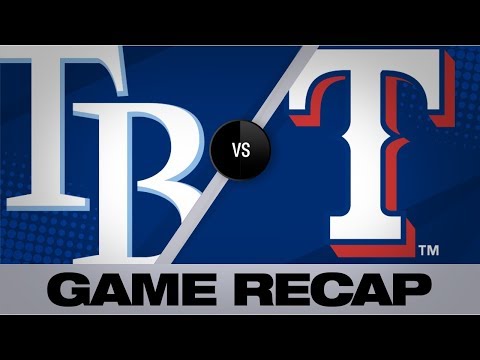 Condensed Game: Nick Solak and Rougned Odor each clubbed home runs to lift the Rangers to a 6-4 victory against the Rays Don't forget to subscribe! https://www.youtube.com/mlb Follow us elsewhere too: Twitter: https://twitter.com/MLB Instagram: https://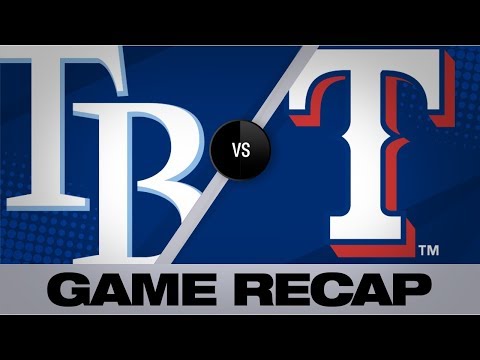 Condensed Game: The Rangers scored seven runs in the 1st and Roughned Odor hit a go-ahead three-run homer in the 7th to give Texas a 10-9 win Don't forget to subscribe! https://www.youtube.com/mlb Follow us elsewhere too: Twitter: https://twitter.com/ML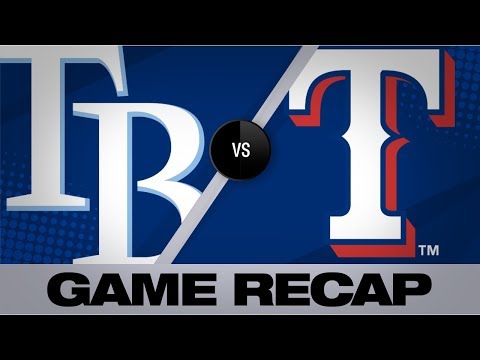 Condensed Game: Austin Meadows hammered the game-tying homer in the 8th before Nate Lowe scored on two errors in the 11th inning of a 5-3 win Don't forget to subscribe! https://www.youtube.com/mlb Follow us elsewhere too: Twitter: https://twitter.com/ML