2:40 AM EDT, Sun May 28, 2017
Last updated May 26, 2017
Yoenis Cespedes Injury Update
Up to the minute news and rumors on Yoenis Cespedes's injury
Amazin Avenue
The Mets' most important player could be back soon, but let's hope the team is still afloat by then. Sometime in the not-too-distant future, the Mets are set to get their most important position player back in the lineup. As the team has slowly worked its way through a series of disappointing games and series, Yoenis Cespedes has been on the shelf with a hamstring injury, his absence felt more and more each day. The Mets have been here before, though the last time they traversed the path of losing in incredibly frustrating fashion to the lowly San Diego Padres, the Cuban outfielder...
Larry Brown Sports
Yoenis Cespedes' return to the Mets could be accelerated if it's determined he doesn't need any rehab games. Cespedes has been out with a hamstring injury and began a running program this week. Manager Terry Collins was optimistic about Cespedes' return, saying the New York outfielder could return to the team next week. In an...Read More
Larry Brown Sports
Yoenis Cespedes may not be away from the New York Mets for too much longer. The Mets outfielder is set to begin a running program this week and could be ready to return from his hamstring injury in a week. Newsday's Marc Carig reported on Monday that Mets assistant GM John Ricco says the running...Read More
Amazin Avenue
Mets outfielder Yoenis Cespedes is recovering from one as we speak. Hamstring injuries are one of the more difficult injuries to recover from due to a high injury recurrence rate. Yoenis Cespedes has been limited since late April with a hamstring strain that ultimately placed him on the disabled list. Strains, in general, are difficult to treat as treatment options are quite limited until the tissue has fully healed. Muscle tissue healing can be facilitated through manual therapy and other techniques that promote blood flow to the injured area. As the hamstrings are recovering, it is...
Amazin Avenue
The hot-hitting outfielder is not expected to miss additional time. The suddenly-potent Mets offense, which had fueled the team's surge back to the .500 mark before today's loss, was without outfielder Michael Conforto, who got the afternoon off. Terry Collins said before the game that the young outfielder has dealt with hamstring tightness. Conforto, who has brilliantly manned the leadoff spot since being installed as the Mets' everyday left fielder when Yoenis Cespedes hit the disabled list, is in the top ten in the National League in several offensive categories—average, on-base...
Amazin Avenue
The Mets finally have a timetable for their injured slugger. Yoenis Cespedes is a "few days" away from being able to resume baseball activities, according to Anthony DiComo. Terry Collins suggested that Cespedes could be roughly two weeks away from a return to the Mets. The 31-year-old outfielder has been out since April 27 with a hamstring strain suffered while legging out a double against the Braves. It was immediately evident that he was dealing with a significant injury, as Cespedes was unable to walk off the field under his own power. Collins admitted that the Mets would likely be...
Amazin Avenue
A quick review of how the Mets' position players performed over the past week The Mets have bene staying afloat lately, especially since they had a winning week while dealing with even more injuries than they had before it began, and for that, they can thank their offense. Lucas Duda and Yoenis Cespedes have been on the disabled list, but the team has rattled off plenty of runs despite missing both of their powerful bats. And that performance has put the Mets at 14-16 on the season, which is better than you might expect when the team's best position player—at least until Michael...
Amazin Avenue
Your Saturday morning dose of New York Mets and MLB news, notes, and links. Meet the Mets The Mets finally snapped their six-game losing streak against no less than the vaunted Nationals. Victory was bittersweet though, as the Mets were forced to place Yoenis Cespedes on the 10-day DL with a hamstring injury before the game. There were positive signs for the Mets, as they won behind seven runs, finally showing some offensive life. Choose your recap: Amazin' Avenue short and long, Times, Post, Daily News, MLB.com, Newsday, NJ.com, Bergen County Record. Many writers thought Terry Collins...
Washington Times
NEW YORK (AP) - The New York Mets have placed outfielder Yoenis Cespedes on the 10-day disabled list because of a strained left hamstring. His absence is another blow to a team that has lost six straight, nine of 10 and fallen into last in the NL East. He is ...
Amazin Avenue
Cespedes left yesterday's game with a hamstring strain It's still early in the season, but the Mets are finding themselves in deeper and deeper trouble. After leaving yesterday's game in the fourth inning, Yoenis Cespedes has been placed on the 10-day disabled list, and the Mets have recalled left-handed pitcher Sean Gilmartin in a corresponding move. Cespedes had just returned to the lineup one day earlier after sitting out three straight games with a nagging hamstring injury. With him on the disabled list, the Mets will roll out an outfield consisting of Michael Conforto in left,...
Amazin Avenue
Your Friday morning dose of New York Mets and MLB news, notes, and links. Meet the Mets The Mets' Thursday afternoon tilt with the Braves was doubly unfortunate—not only did the Amazins fall 7-5 for their sixth consecutive defeat, but Yoenis Cespedes left the ugly contest early. The left fielder re-injured his hamstring in just his second game back from resting off the same injury. This came just hours after Noah Syndergaard was scratched from his start due to a sore biceps. Choose your recap: AA short and long, Times, Post, Daily News, MLB.com, Newsday, NJ.com. Having treated himself...
Amazin Avenue
Just when you thought the injuries could not get any worse, they got worse. Mets outfielder Yoenis Cespedes came up lame while legging out a double in the bottom of the fourth inning in today's loss to the Braves, and had to get helped off the field by team trainer Ray Ramirez and manager Terry Collins. This added injury to eventual insult, as the Mets went on to lose the game to Atlanta 7-5. During Terry Collins's post-game press conference, the manager admitted that Cespedes "could be out a while", and that a stint on the disabled list is more likely than not for him, which would...
Amazin Avenue
The Mets may have lost their two best players to injury today, and they lost again too. The Mets lost yet again to the lowly Braves, their sixth-straight loss and tenth in their last 11 games. We learned before the game that Noah Syndergaard was scratched due to biceps tendinitis and is going for an MRI, but somehow things only got worse after that. Matt Harvey got the start in place of Syndergaard and looked bad. He pitched only 4.1 innings and gave up six runs and walked five. He recorded only one strikeout. The biggest blow of the game for the Mets, though, was when Yoenis Cespedes...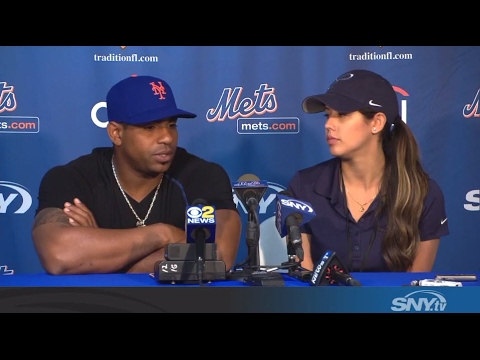 Yoenis Cespedes thinks that the New York Mets have a good chance to compete for a championship if they stay healthy, and he's excited that he signed a long term deal with the team.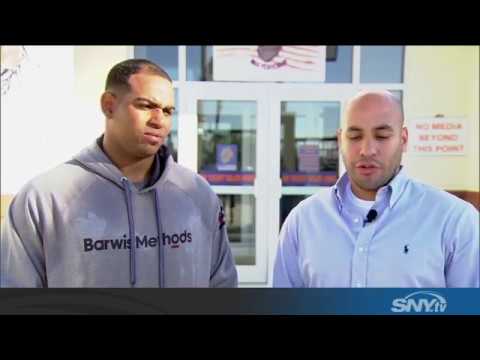 New York Mets outfielder Yoenis Cespedes is in Port St.Lucie for an early start to spring training, and talks about the comfort he has with the organization after signing a long-term deal.